As with any other season, there were tons to see at GANNI's "Hello, World!" presentation during the Spring/Summer 2024 edition of Copenhagen Fashion Week. Upon entering the show's venue, attendees were greeted by green-themed cocktails and a row of five trees down the catwalk — later explained to be native Danish trees aged between 23 and 35 years that "talk," thanks to an exclusive AI voice generated in collaboration with Cecilie Waagner Falkenstrøm, artist and founder of ARTificial Mind studio.
Named Jackie, Mona, Ana, Richie and Susie, the five trees opened the collection, welcoming Paloma Elsesser to the catwalk, revealing a new collaboration between the Danish label and the model. The creative appeared in a burgundy two-piece set — teasing a larger capsule to be released in Spring 2024 — as the trees (somewhat eerily) spoke, "Does it feel good to be back? Everyone here loves you. Copenhagen loves you. We created a soundtrack for you, based on the GANNI girls' favorite songs."
The show was accompanied by an AI-generated tracklist featuring everything from Lil Nas X's "Industry Baby" to BLACKPINK's "DDU-DU DDU-DU," making attendees dance in their seats. The collection was mostly packed with tailored suits and shiny, metallic denim pieces, as well as printed dresses signature to GANNI. In footwear, highlights included a highly anticipated New Balance collaboration in addition to cowboy boots, while accessories included an eyewear partnership with Ace & Tate.
Shortly after the brand's SS24 show, we caught up with GANNI's creative director Ditte Reffstrup to chat about the collection, how she's been spending her summer and more. Continue scrolling to read our interview with the designer.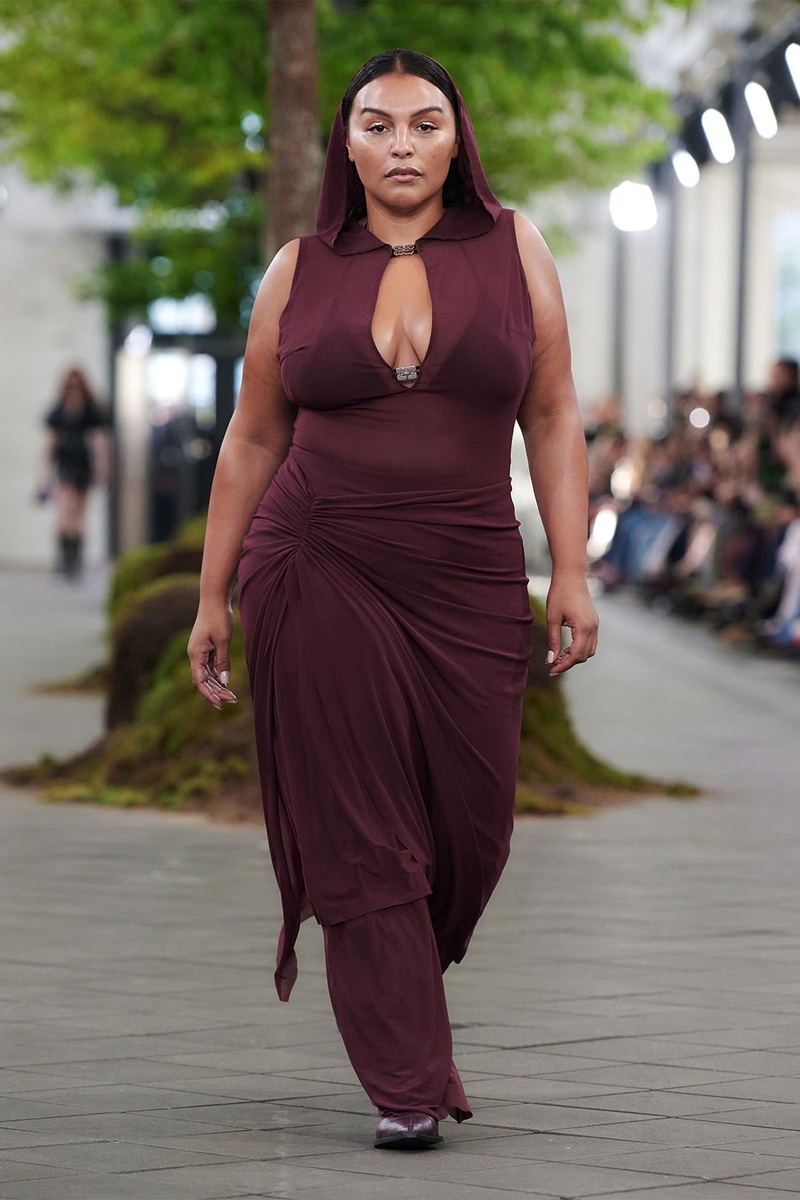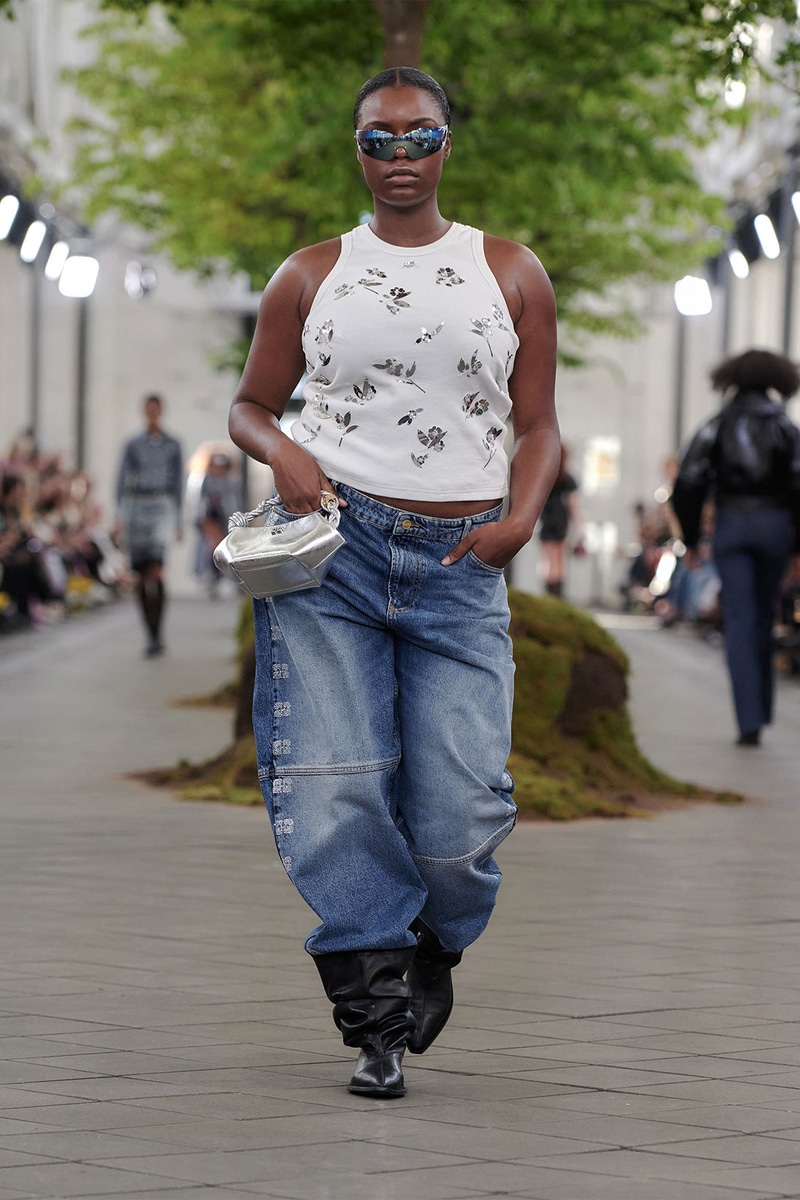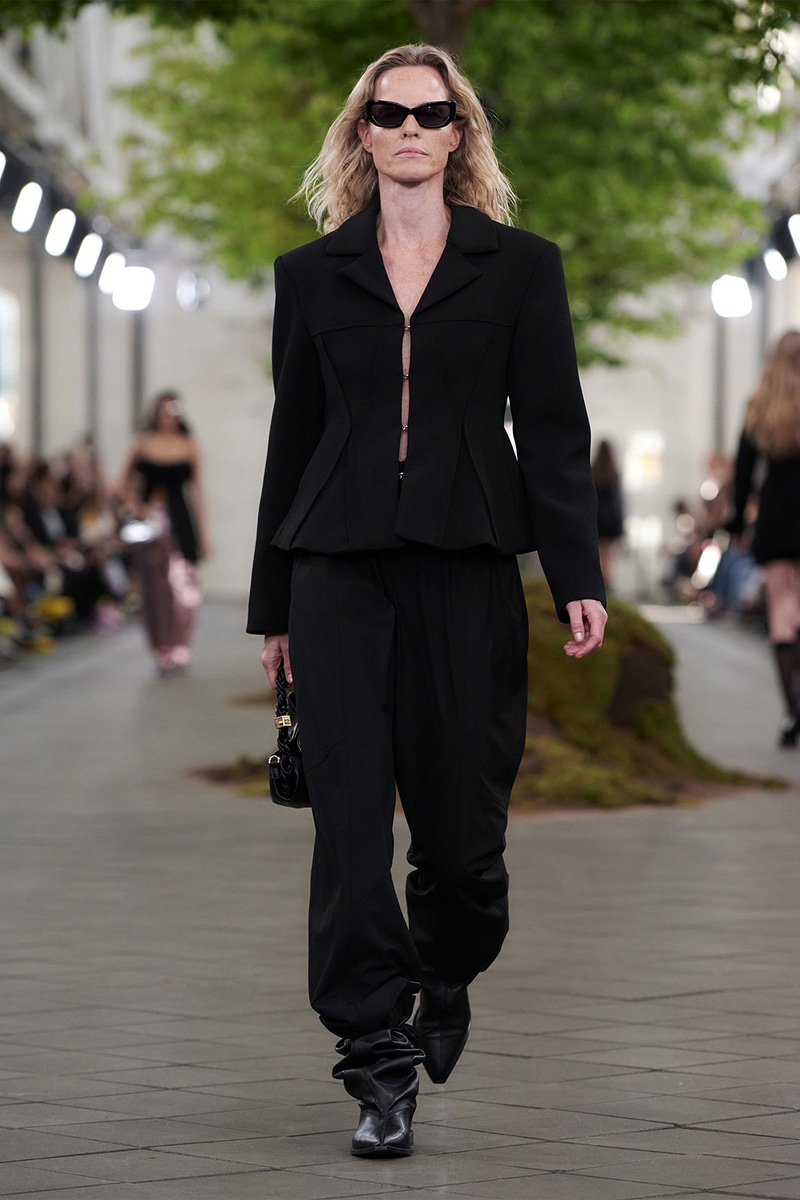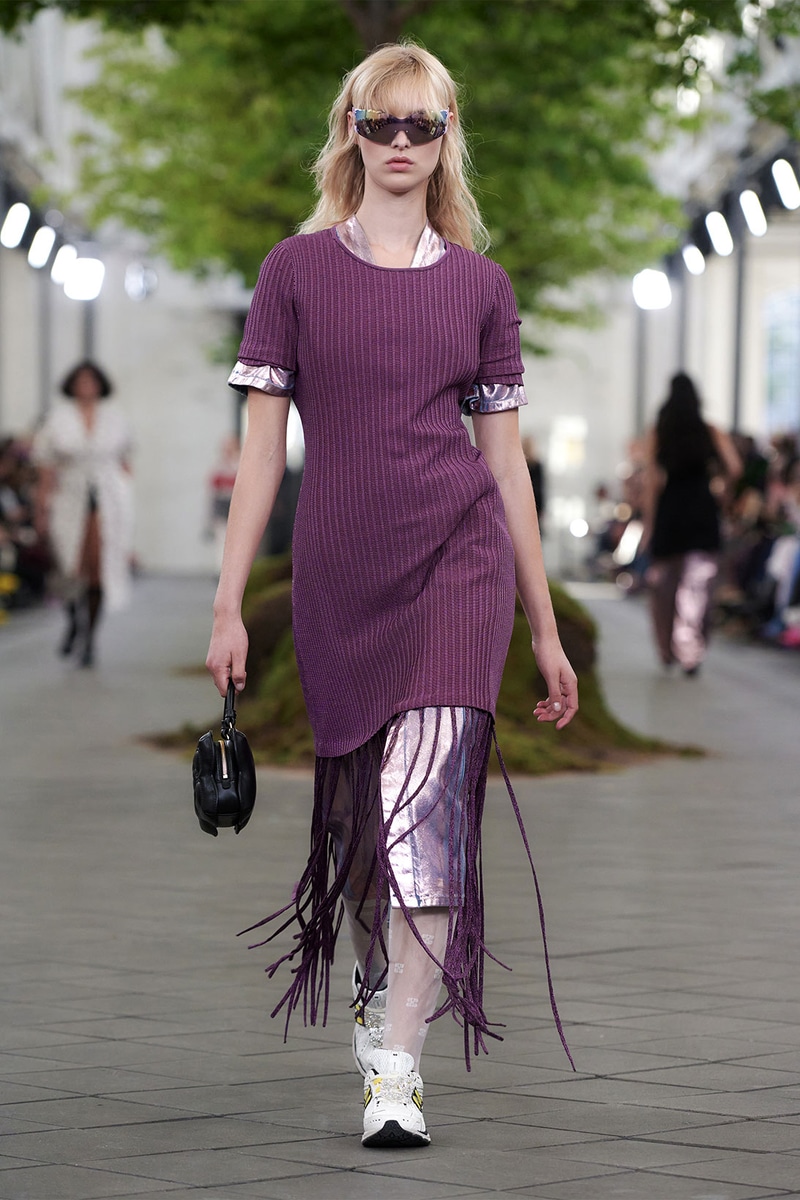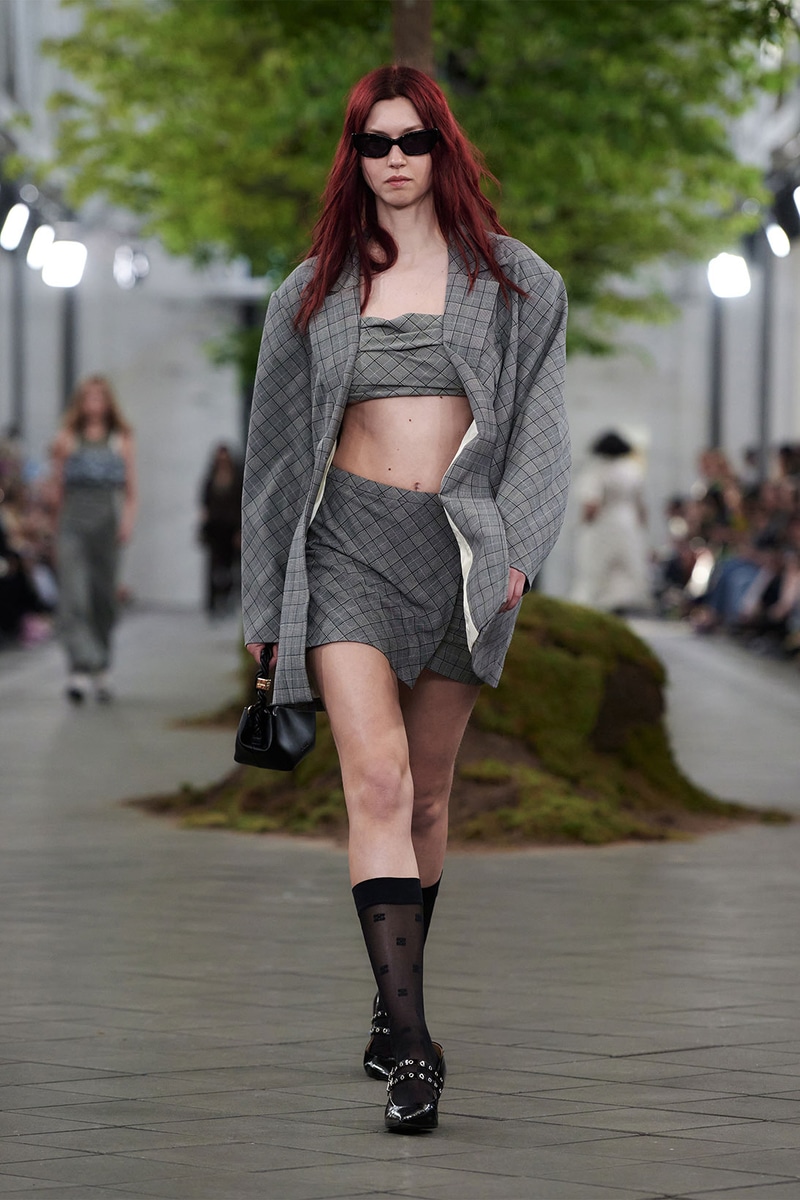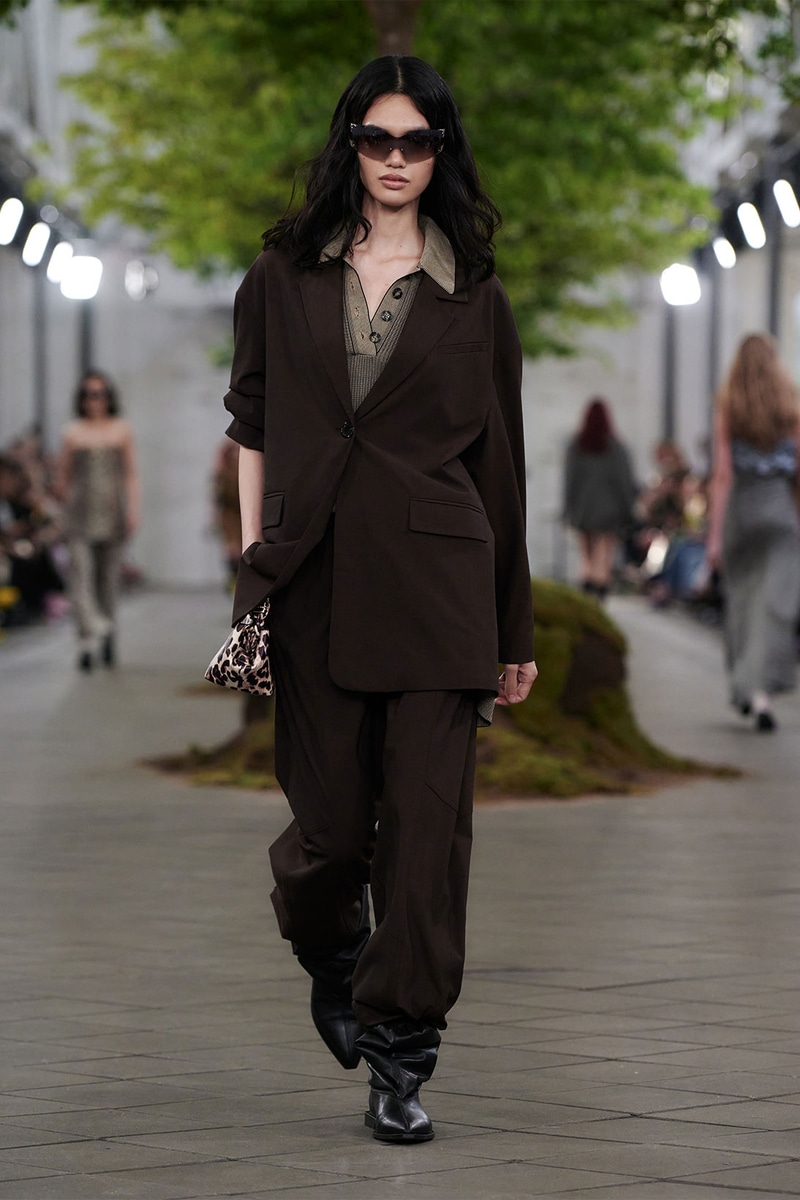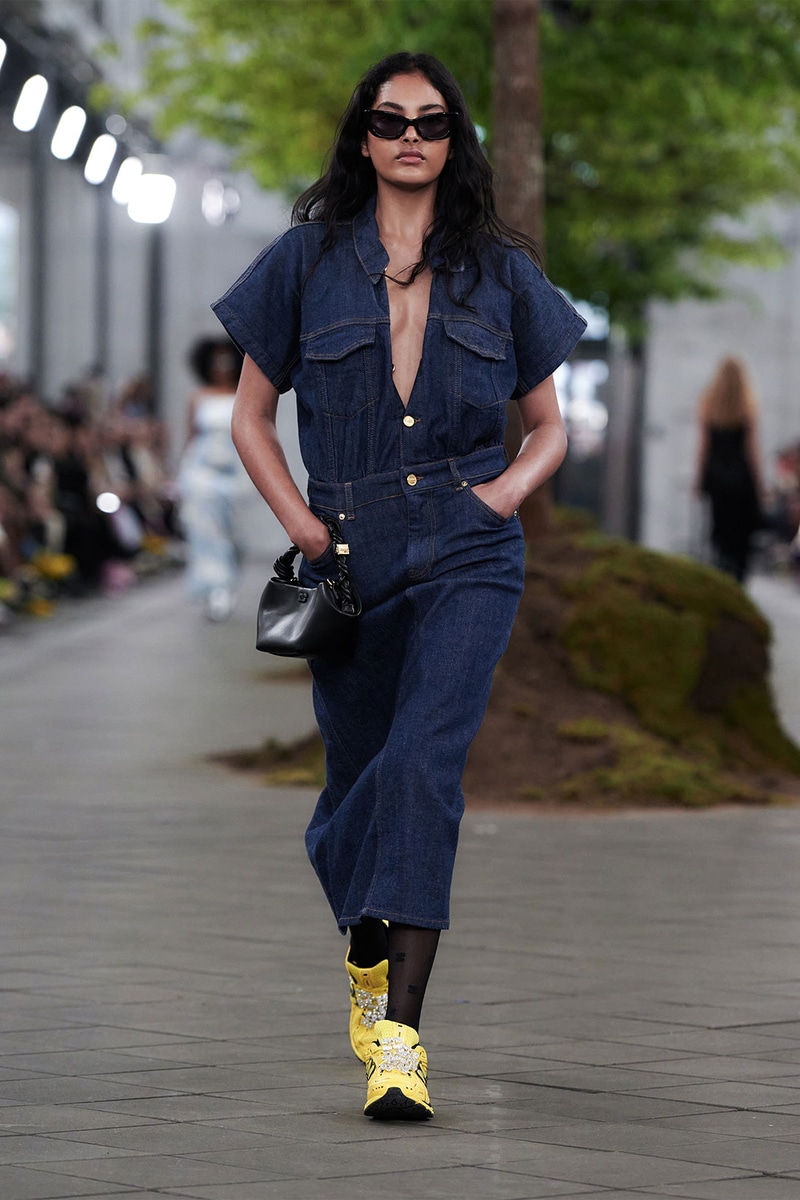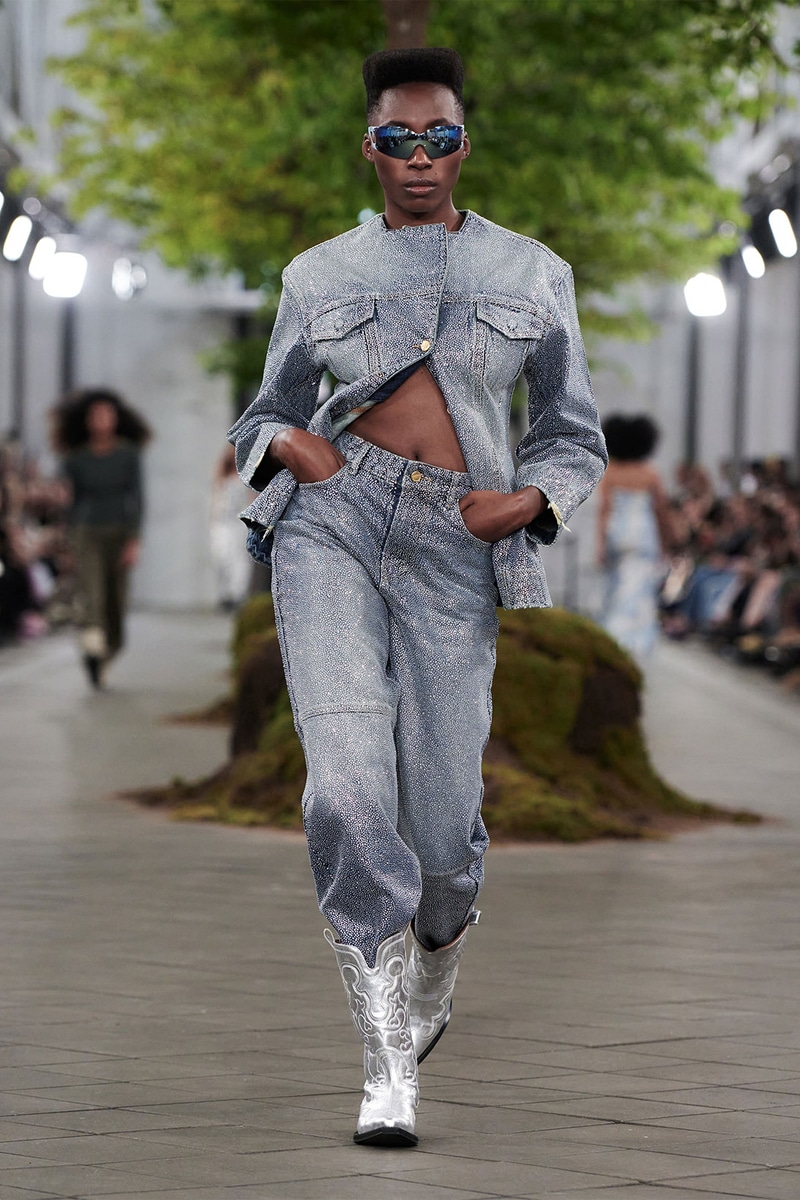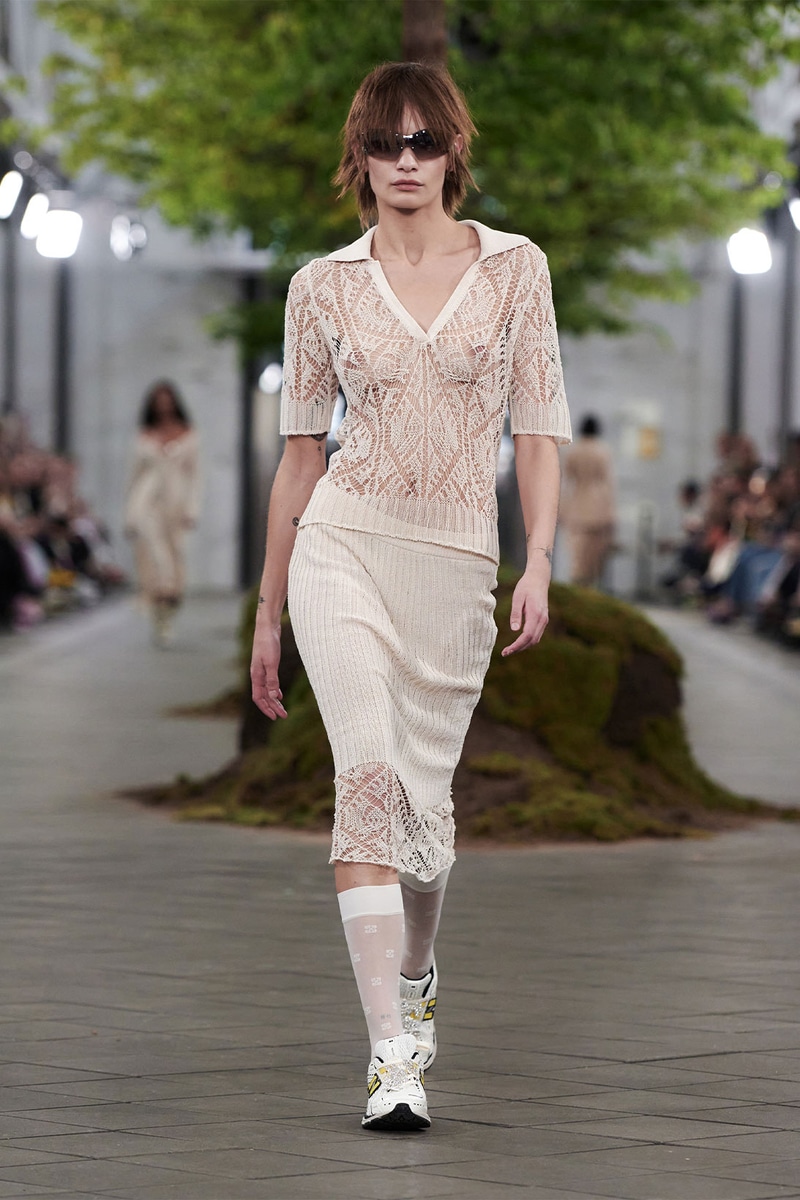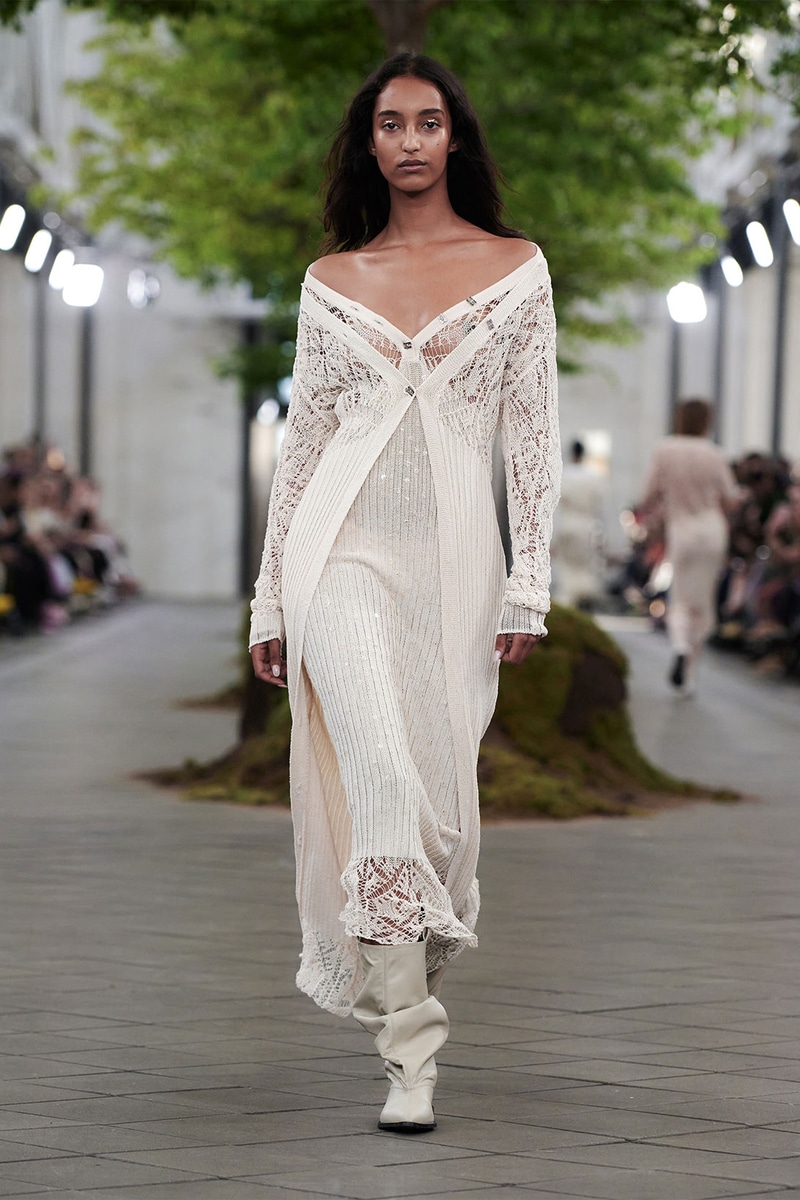 How have you been spending your summer so far?
Nicolaj and I have a tradition of always spending our summers together in Denmark. We start by heading north to the very tip of Denmark, close to where I am from, and then make our way across Denmark. Danish summers are always the most magical.
What are three songs that have been on repeat for you this summer?
These three songs have been on repeat all summer as they were also in our show's tracklist!
Lil Nas X - "Industry Baby (Dyzzy Jersey Club Remix)"
Amerie x Panjabi MC - "1 Thing x Mundian To Bach Ke (Instrumental)"
Shakira - "Whenever, Wherever"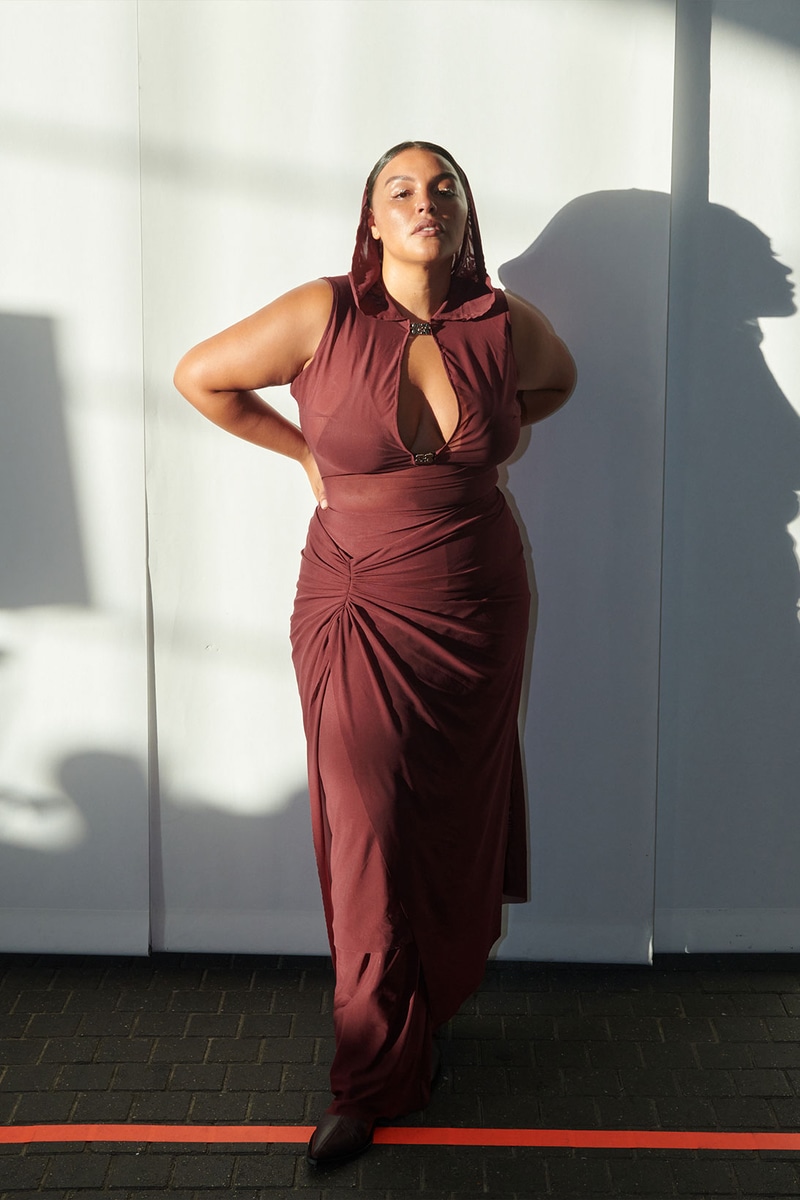 Paloma Elsesser backstage at GANNI SS24. The model opened the show in a burgundy two-piece co-designed by herself and the Danish brand, teasing a larger capsule due to release in Spring 2024. (Photo: Mathias Nordgren)
What is one project you've enjoyed participating in this year so far?
I love supporting up-and-coming talent and helping them thrive. We recently launched a collaboration with Copenhagen darling Nicklas Skovgaard.
Last season, you debuted a brand new logo on your "BUTTERFLIES" runway. How has the GANNI brand evolved since?
Earlier this year in February, we launched our first collection with the new butterfly logo, marking the beginning of a new chapter for us. This season is all about transformation, change, and positivity — all
things symbolized by the butterfly.
Our team has come a long way since our beginnings, and it makes me incredibly proud to consider where we stand today. This time, the FW23 collection has a more mature and grown-up feel — sleek and strong, yet distinctly GANNI. This theme carries over into our SS24 season as well.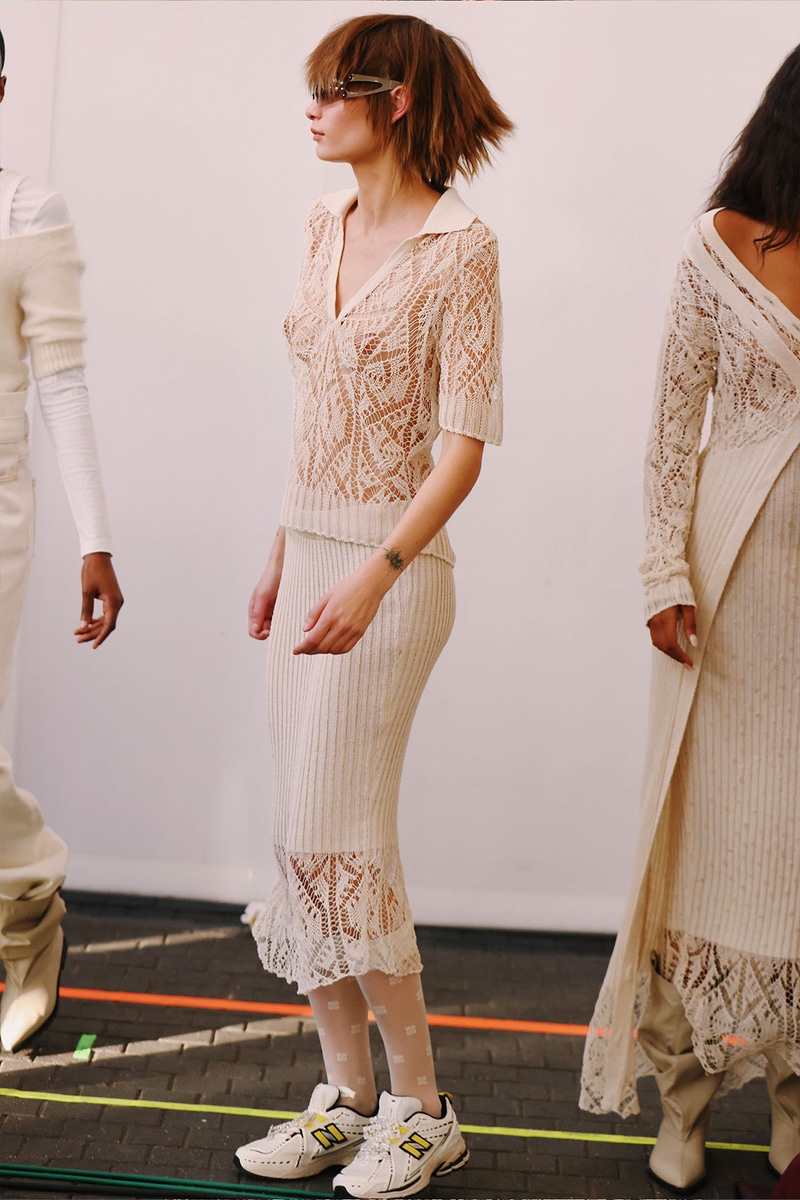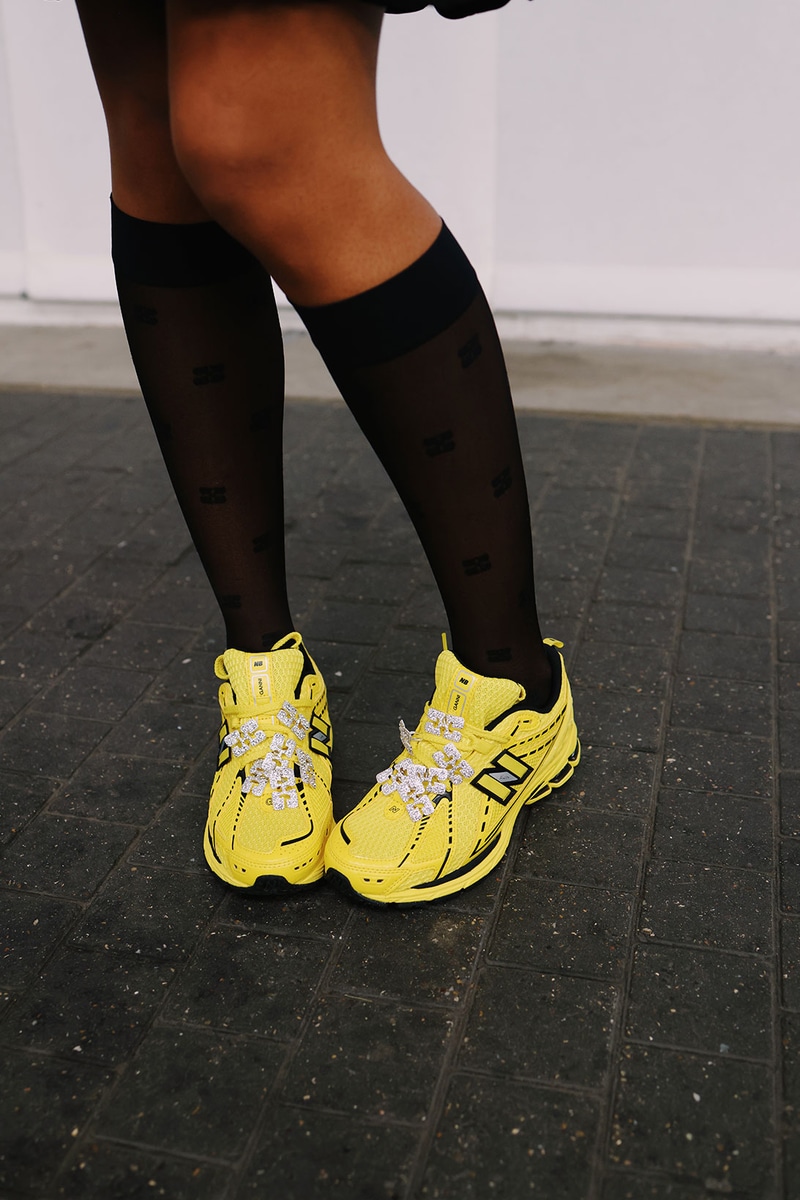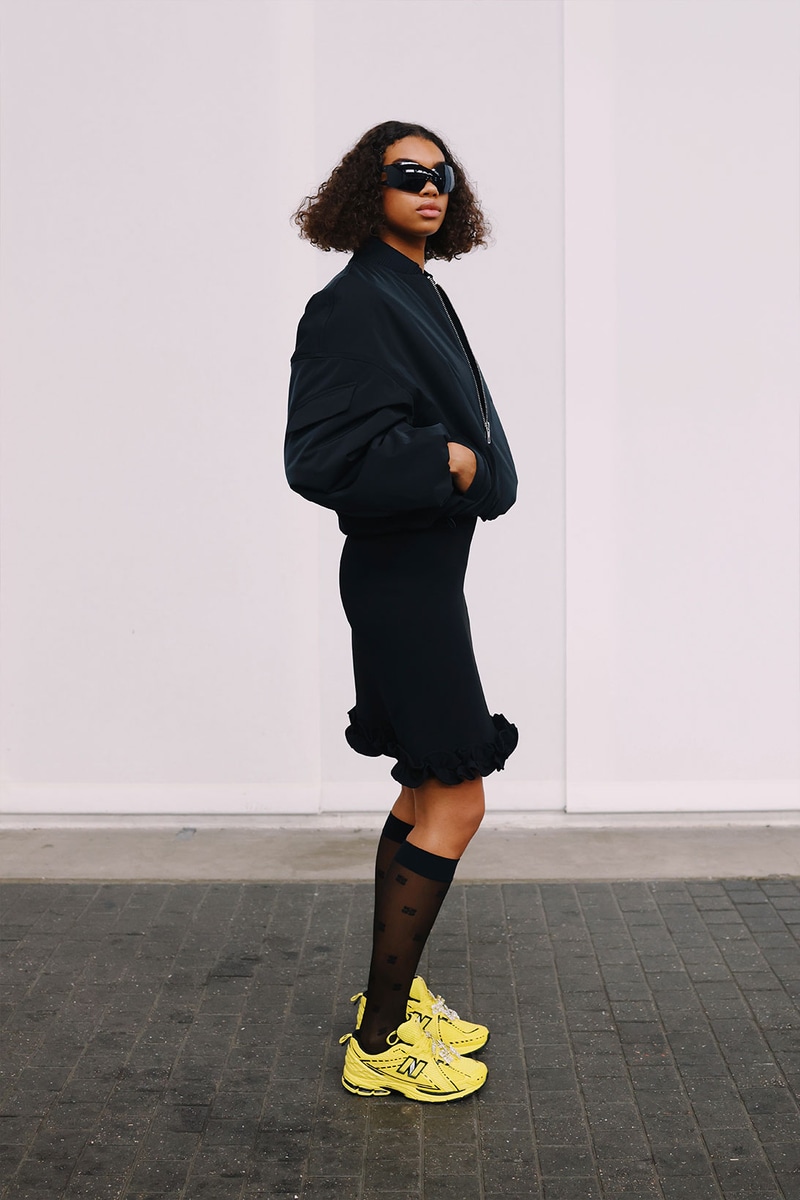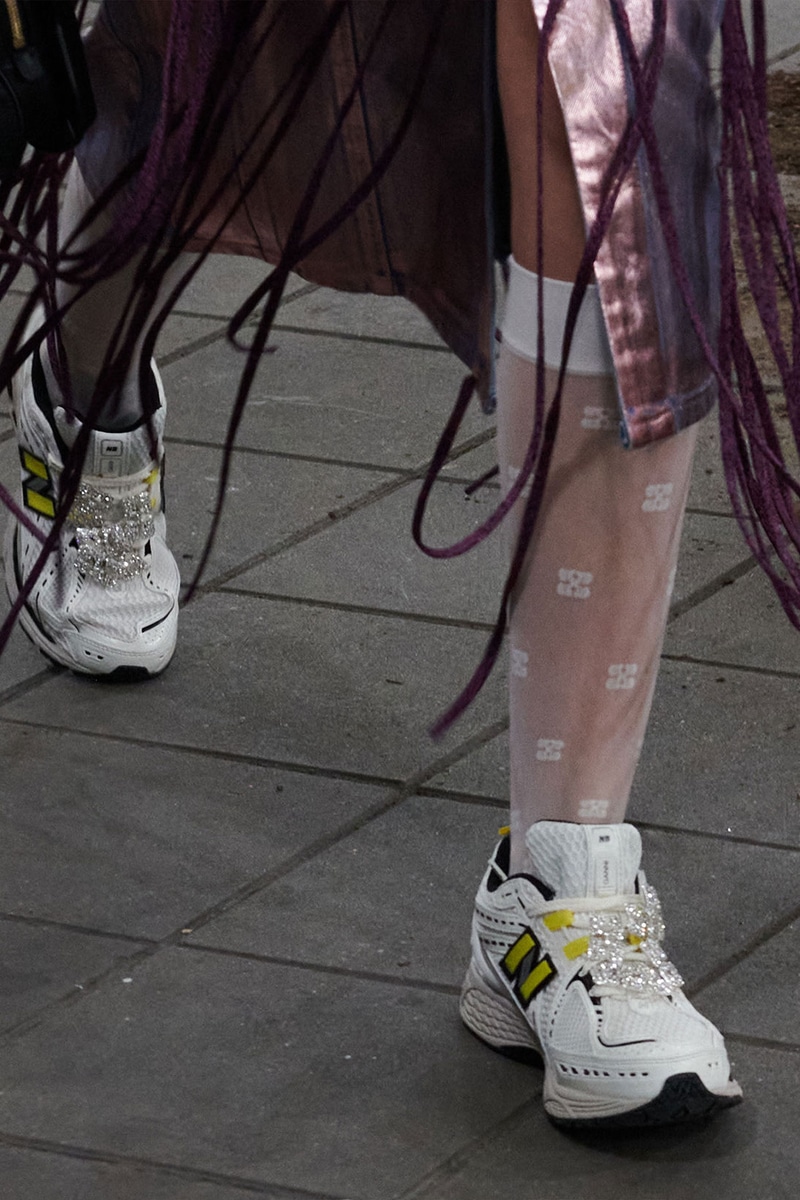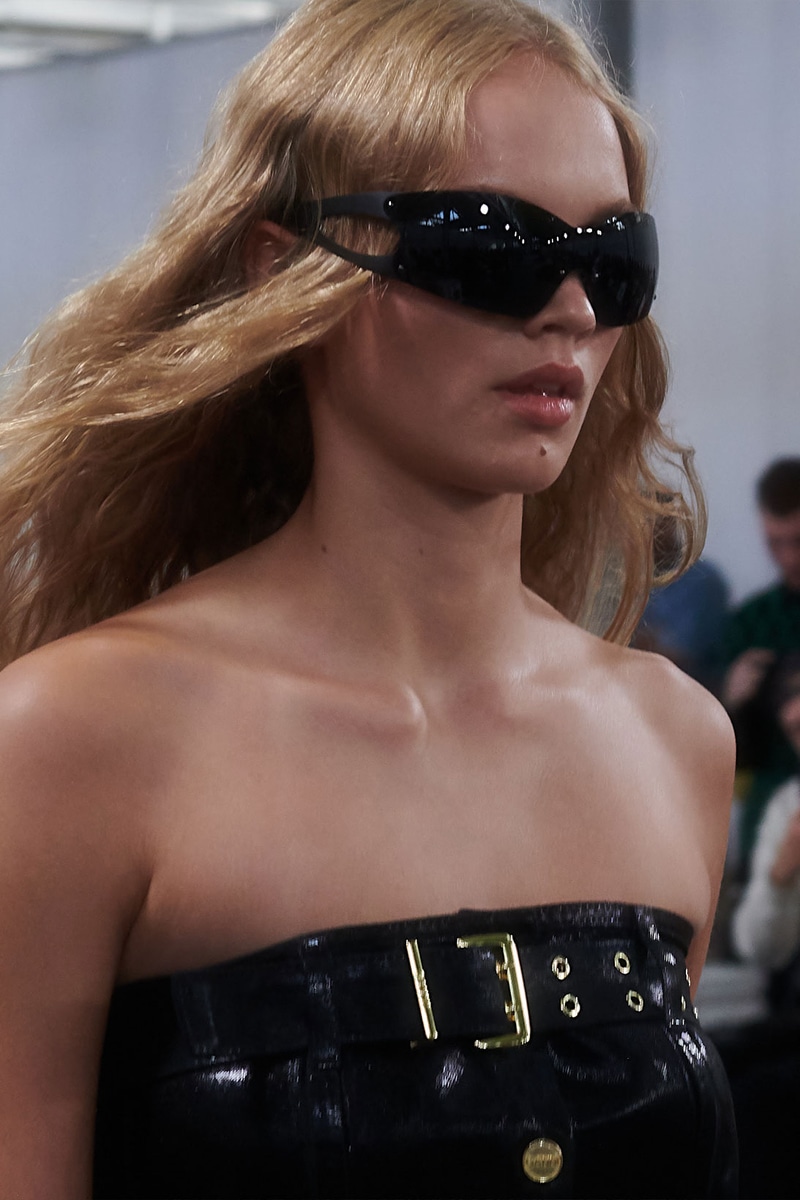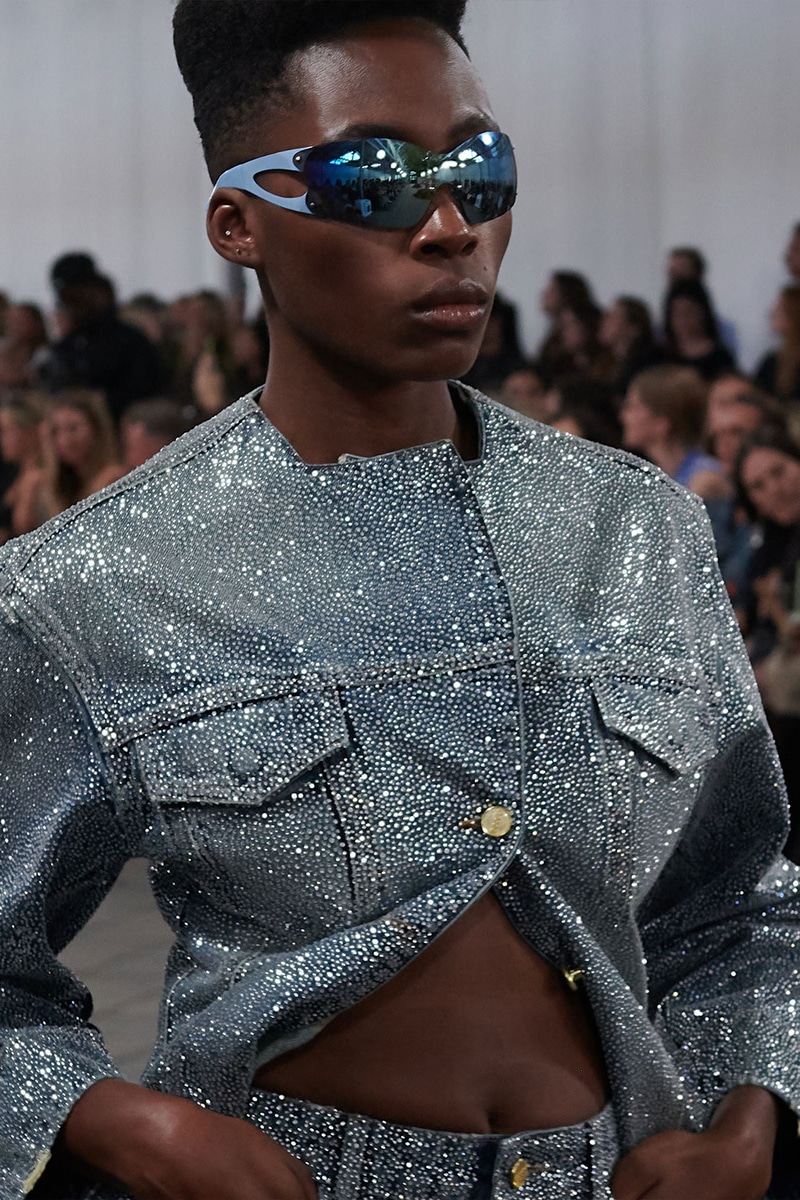 GANNI's New Balance and Ace & Tate collaborations revealed on the SS24 runway. (Photo: Goldie Williams, Alex Dobe, Mathias Nordgren/GANNI)
Throughout the years, you've incorporated more and more collaborations into your collections, featuring names like Ester Manas and Veneda Carter. How do you select or find the people/brands you want to work with?
I can't emphasize enough how much creative energy I derive from collaborations. I adore sharing ideas and creative synergies with individuals from various brands and industries. Collaborations for us are always organic. We collaborate with individuals from our extended community, often through introductions from friends. Sustainability-minded alignment is also crucial for me when working with brands and individuals. This season, projects with Paloma Elsesser, New Balance and Ace & Tate have truly brought about a surge of energy.
In addition to collaborations, what other highlights should we look out for in this collection?
I am completely enamored with all our tailoring and denim this season. It feels like we're revisiting fashion basics, which is so fitting for the current time.
Many local brands in non-fashion capitals opt to showcase in cities like Milan or Paris once they've reached a certain stage in their growth. However, GANNI continues to stay in Copenhagen. Can you share more about why you made this choice and what the Danish fashion community means to you?
Copenhagen is our home and where our heart lies. The city is an immense source of inspiration for us and is deeply ingrained in our identity. It will forever remain a wellspring of inspiration, and I genuinely appreciate how it has evolved into a platform for a more sustainable fashion vision.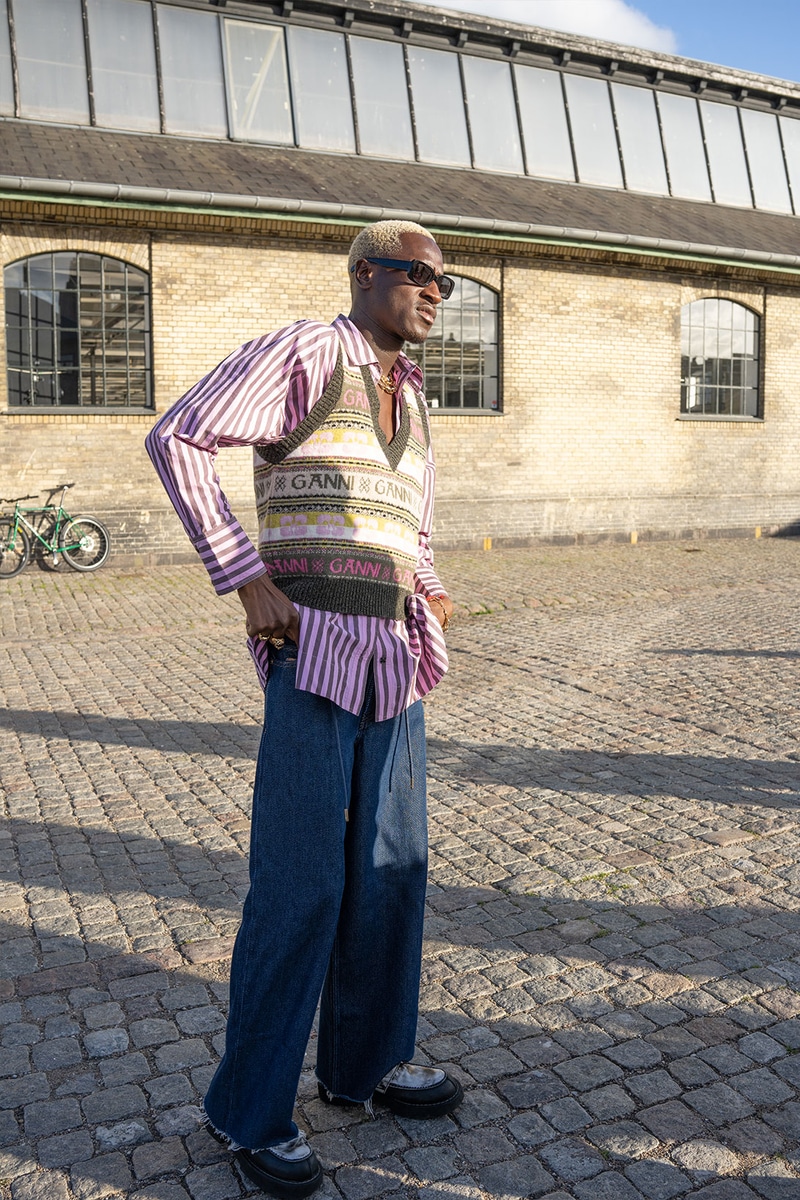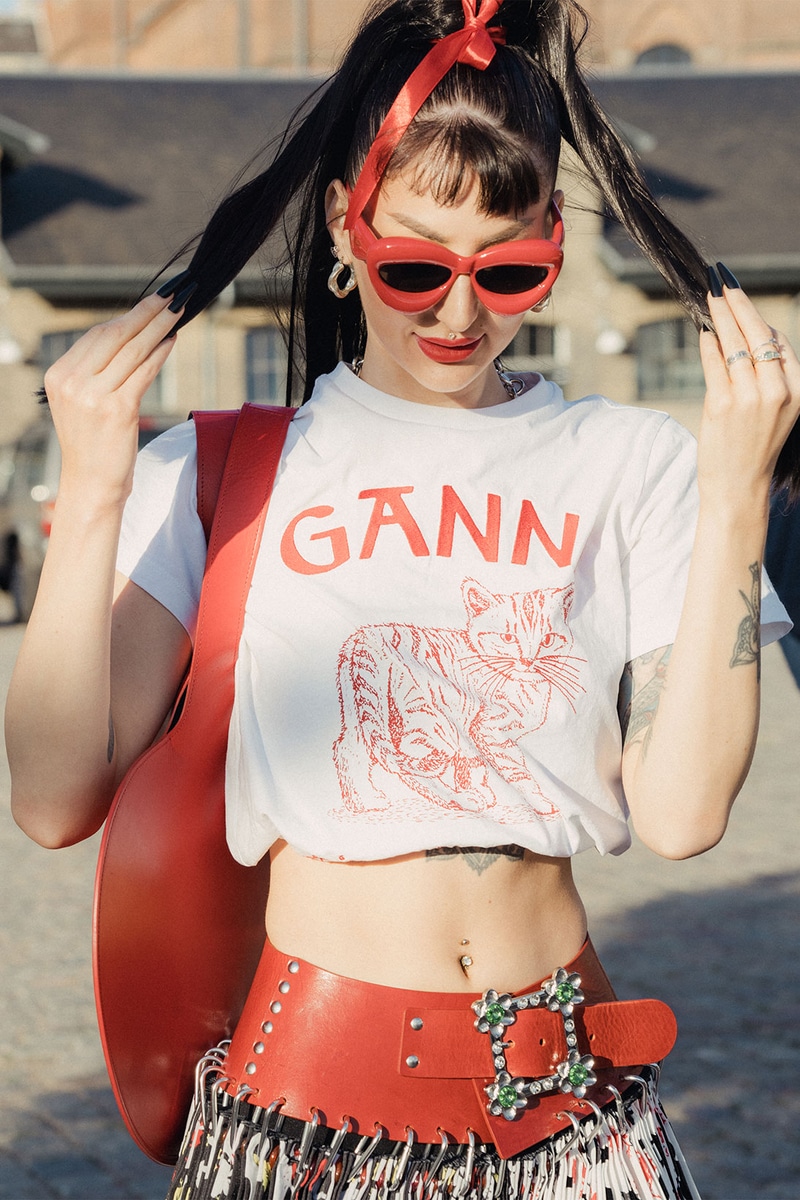 Guests attending GANNI's SS24 show during Copenhagen Fashion Week. (Photo: Maxine Stiller/HBX)
What is a keyword for GANNI this year?
A global movement!
You've had numerous store openings this year, from Hamburg and Sydney to Beijing and Chengdu.
We are genuinely thrilled about our expanding presence in Asia. It's an expansive region, and each market, from Japan to South Korea and China, is distinct. There's so much to learn, and we're truly humbled by the warm reception we've received thus far.
Another significant moment for you in 2023 was being selected as one of Time100's Most Influential Companies. What was your initial reaction upon finding out, and what does this recognition mean for your eco-conscious and responsible efforts?
That moment was truly unbelievable. At first, Nicolaj and I thought it might be a scam – I simply couldn't believe it. It's an immense honor and a milestone to be listed alongside global giants with such far-reaching influence. I'm filled with gratitude for the team that played a part in making this happen, and my immediate thought is, "What's next?"
---
Shop GANNI on HBX:
---