This interview was originally posted on HBX Journal HK.
---
In the realm of denim enthusiasts, there are generally two categories of people. The first category consists of those who are meticulous about the quality of the fabric. They delve into the intricacies of ounce weight and the art of washing and dyeing, cherishing the wear and tear that gradually appears on their jeans. The second category includes those who appreciate the artistry of ready-made craftsmanship. They seek exaggerated whiskering, delicate distressed details, and embroidered patches as focal points for their collections. Regardless of which category one falls into, it reflects the deep emotional connection people have with denim.
HBX recently had the pleasure of inviting Kurtis, the mastermind behind the native Hong Kong brand Raw Emotions, to share with us his denim collection that he has amassed for more than 20 years. From the artisan Japanese washed denim of the Harajuku era to the extravagantly loose, rebelliously distressed handmade jeans of the Y2K days, Kurtis possesses a diverse range of denim treasures. Over the course of our conversation, we also discovered how denim has inspired Kurtis' creative vision for his own brand.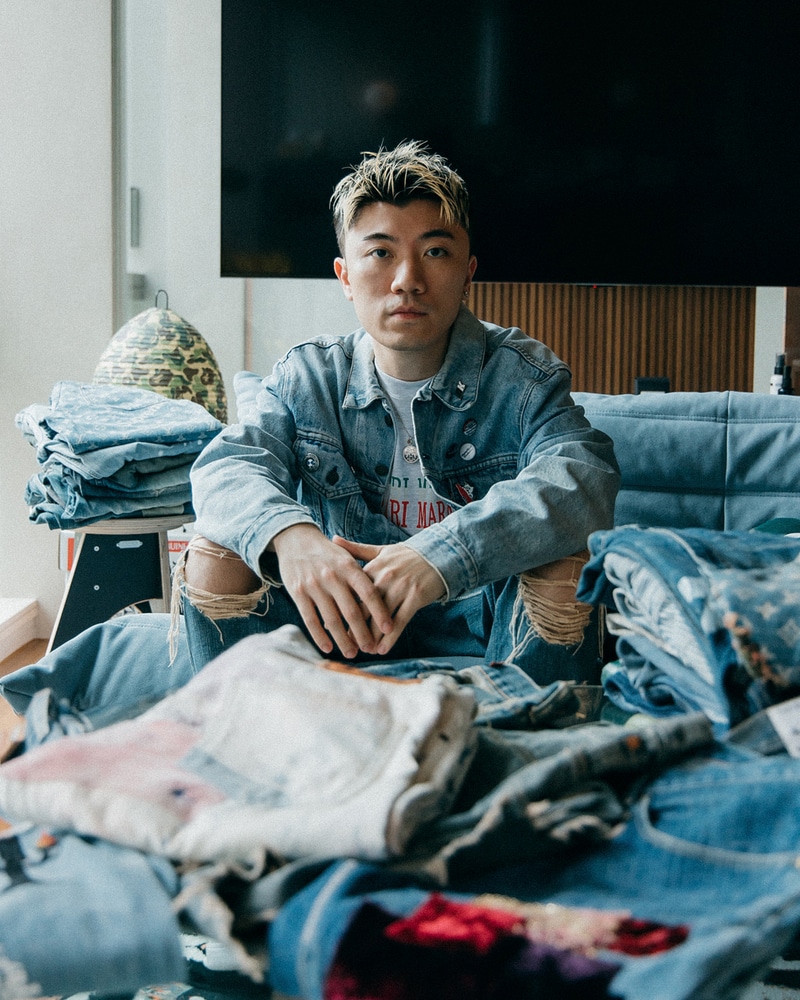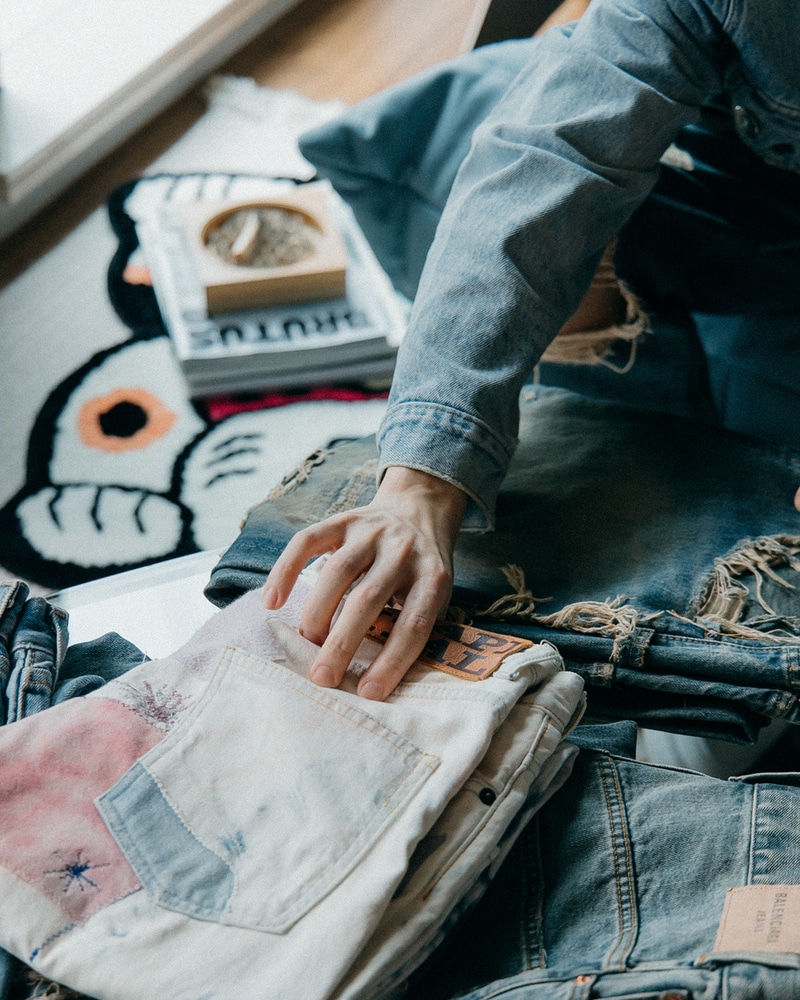 How many years have you been collecting denim jeans? What sparked your passion for denim?
I've been fond of denim since my high school years. It was during the era when Ura-Harajuku culture was at its peak, and denim styles were heavily influenced by the art of washing. I particularly loved NEIGHBORHOOD's "Max Savage" washed denim, which was all the rage back then. For over two decades now, my collection has predominantly consisted of washed denim jeans.
What defines a good pair of jeans for you?
Ultimately, a good pair of jeans should have natural fading and whiskering that come with wear, which takes a large amount of time and experience to achieve. Therefore, the craftsmanship and dedication put into creating these effects in a brand-new pair of jeans are things that I truly admire and respect.
Tell us about your favorite piece from your collection.
During my high school years, Edison Chen was considered a trendsetter by many. In his music video for "Instant Camera," he wore the NEIGHBORHOOD "Max Savage" washed denim jeans. At that time, NEIGHBORHOOD was already renowned for their exceptional denim craftsmanship, inspiring many Ura-Harajuku brands to make their own denim jeans. I've acquired these jeans three times, from the initial purchase, selling it at a premium, to recently acquiring the original edition again. This marks the final time I'll add it to my collection.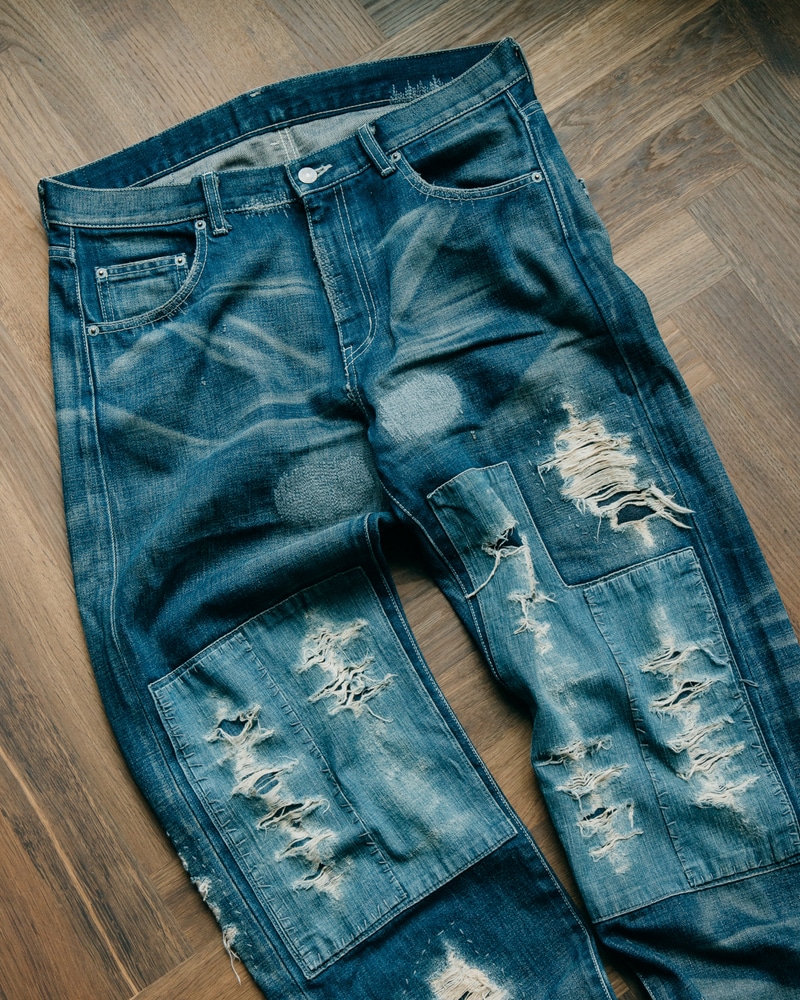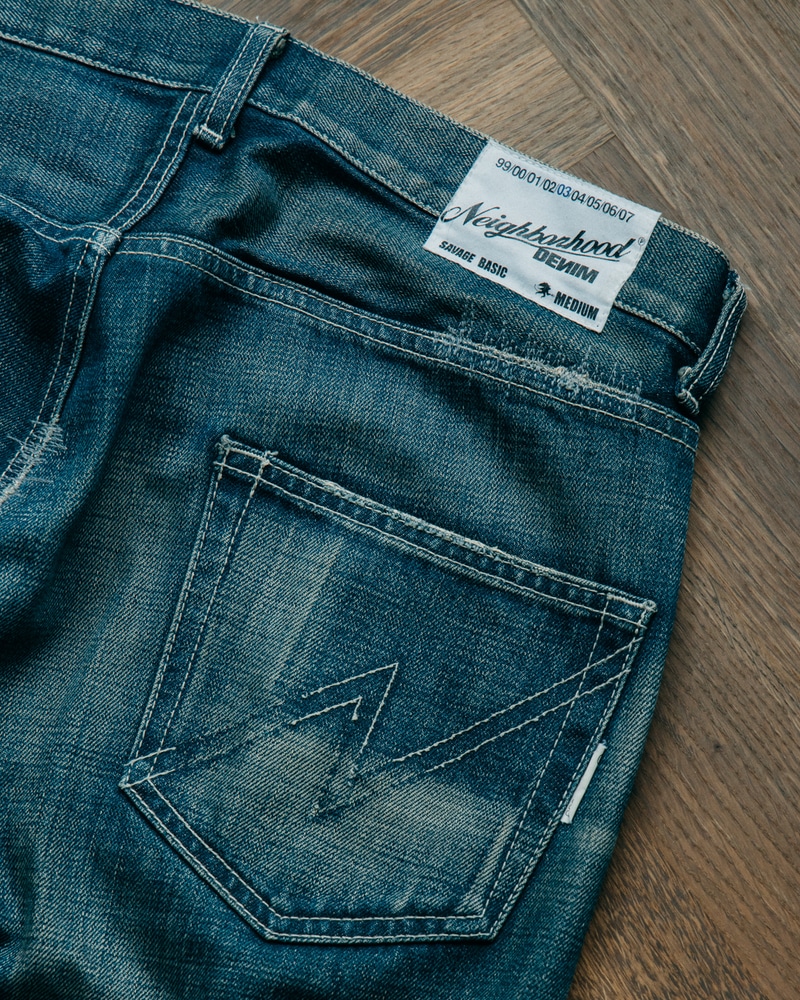 Do you think a lot of quality denim jeans in recent years have been influenced by Ura-Harajuku culture?
Indeed, brands like READYMADE and Saint Michael have incorporated various washing elements into their designs, even applying washing techniques to clothing and accessories. In addition, Kapital's Patchwork jeans bear the influence of Number (N)ine's early designs.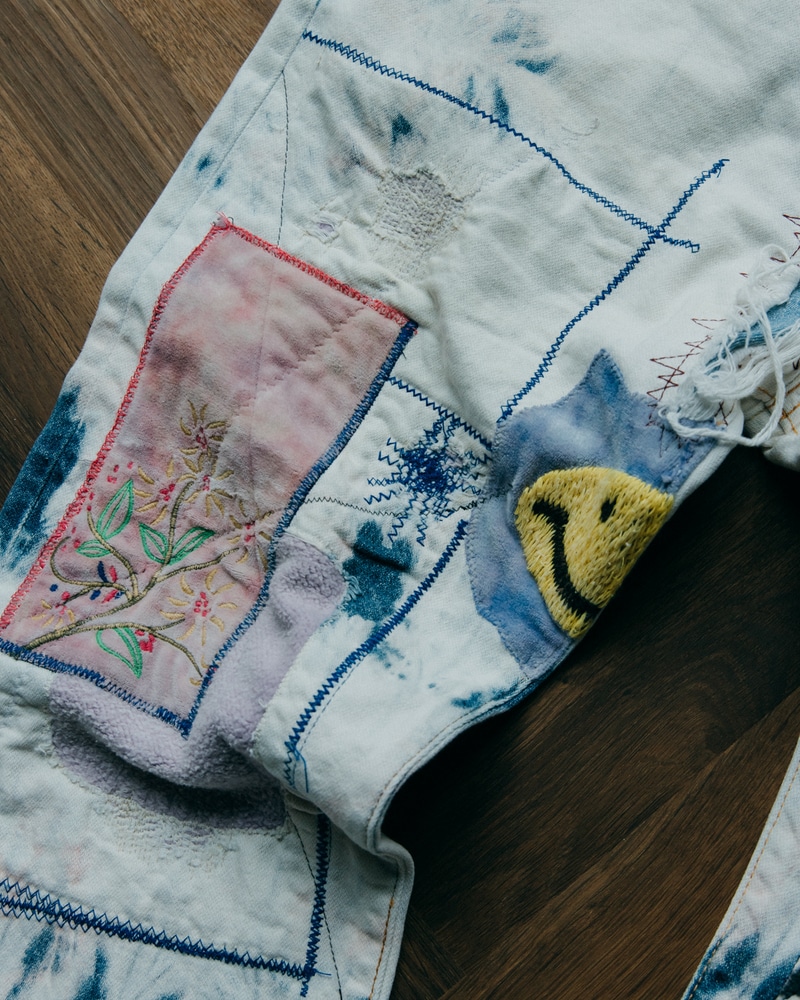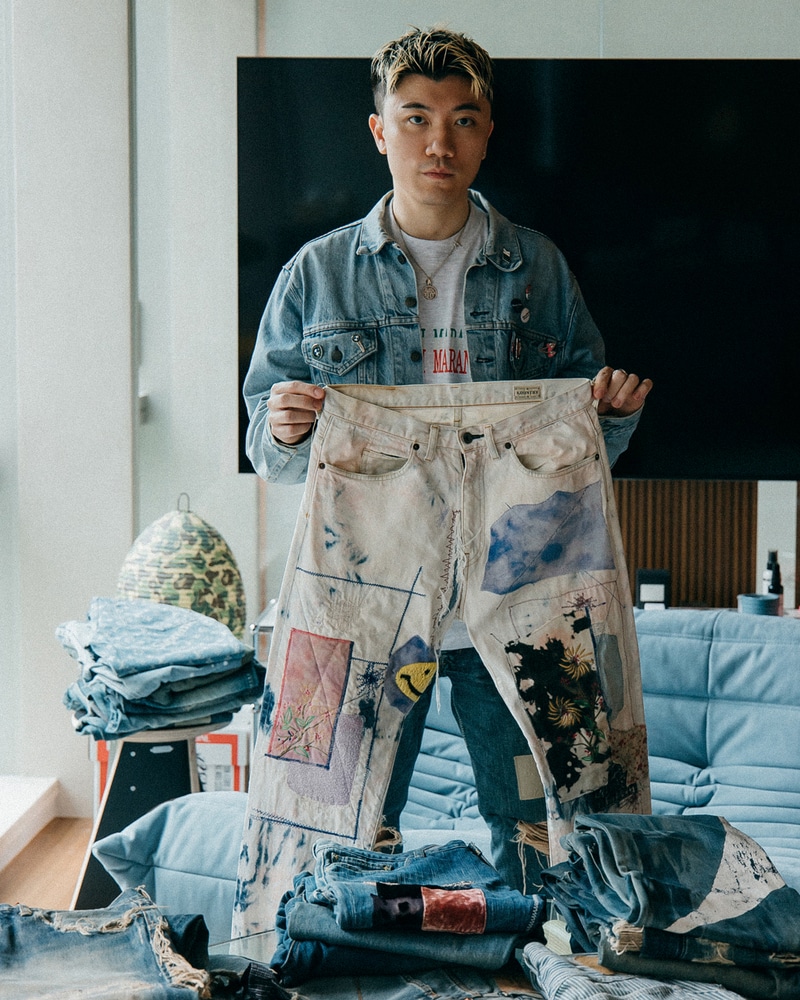 UNDERCOVER, a Japanese brand influenced by punk culture, has always been known for producing slim-fit jeans. This wide-cut pair, which diverges from their usual style, is their first foray into a wider silhouette, clearly demonstrating the influence of NEIGHBORHOOD from that era.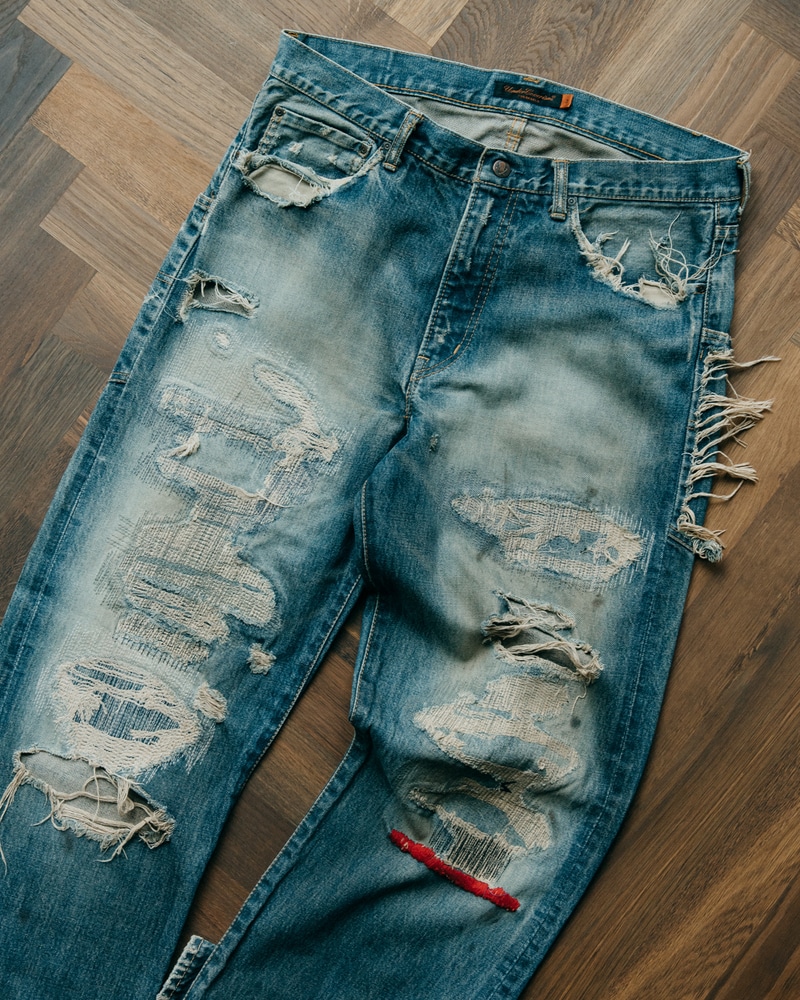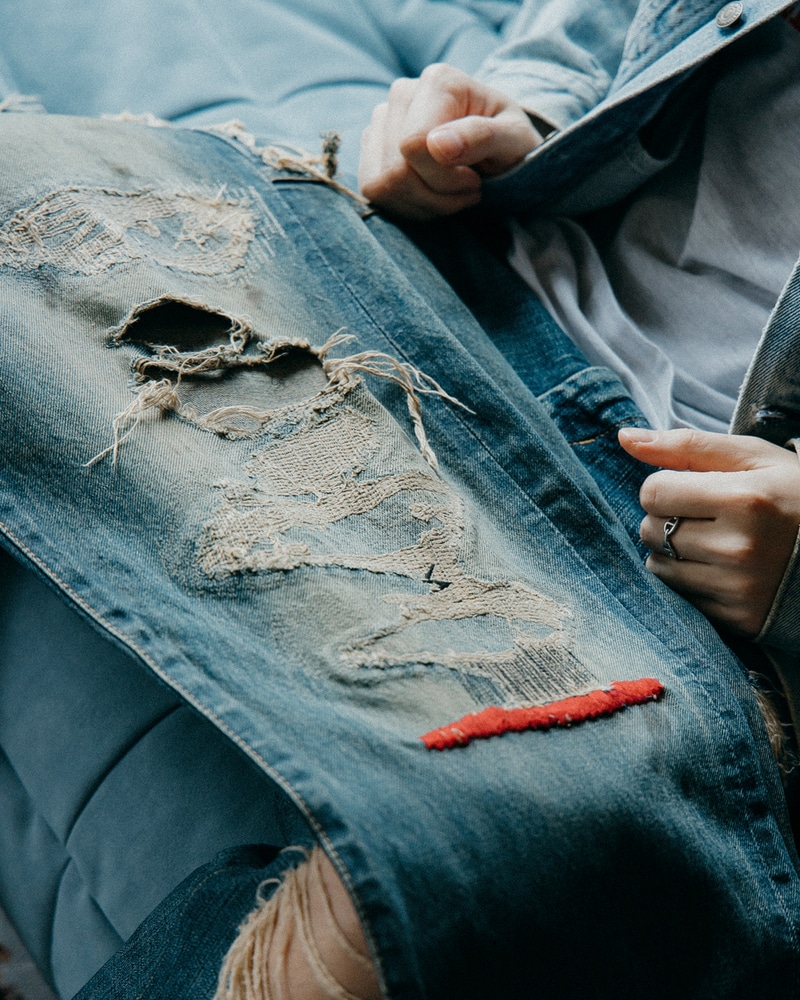 The Japanese brand Number (N)ine, before it was sold, was a brand that was definitely worth investing in because of its unique patchwork designs – each pair has its very own character. This also caused their resale value to skyrocket.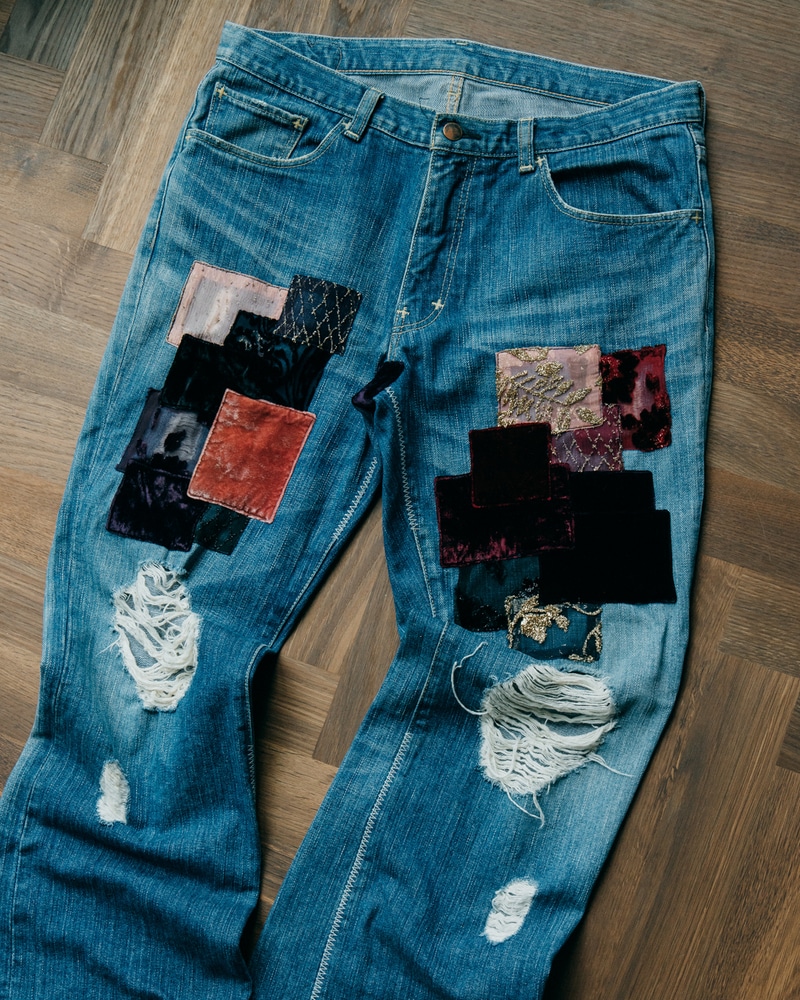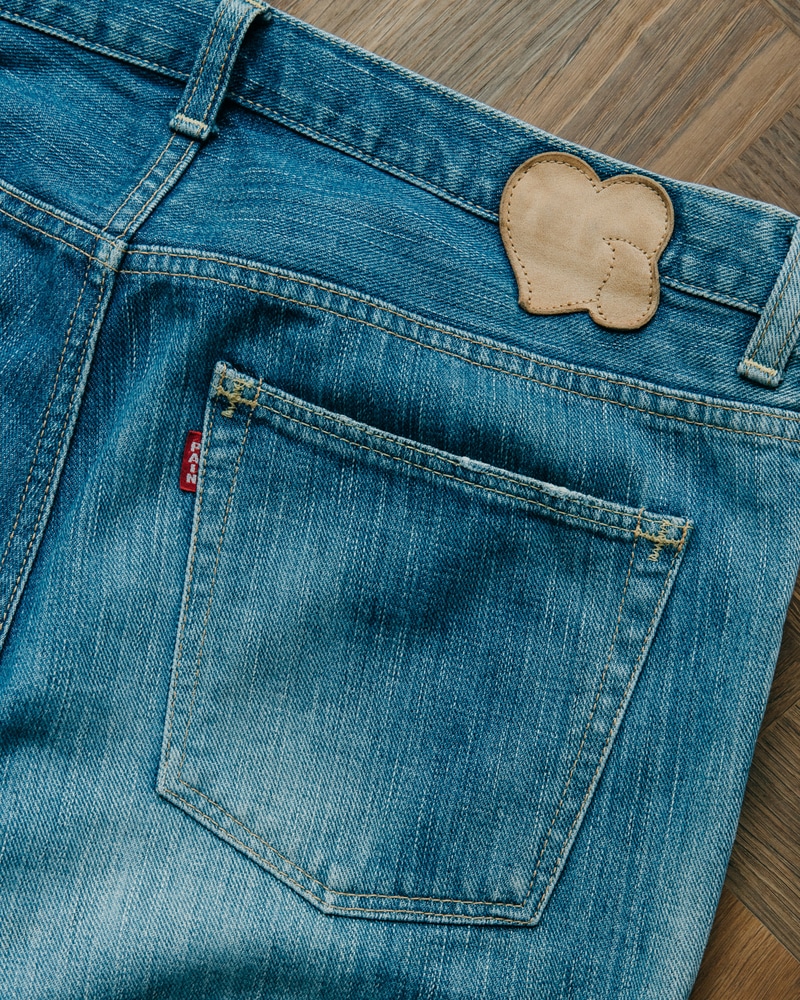 Louis Vuitton was never known for their worn-out aesthetics, but these patchwork jeans exhibit a vintage aesthetic with its aged look, and even features floral patterns. This design reflects Virgil Abloh's connection with Ura-Harajuku culture. I purchased these jeans as a tribute to him following his passing.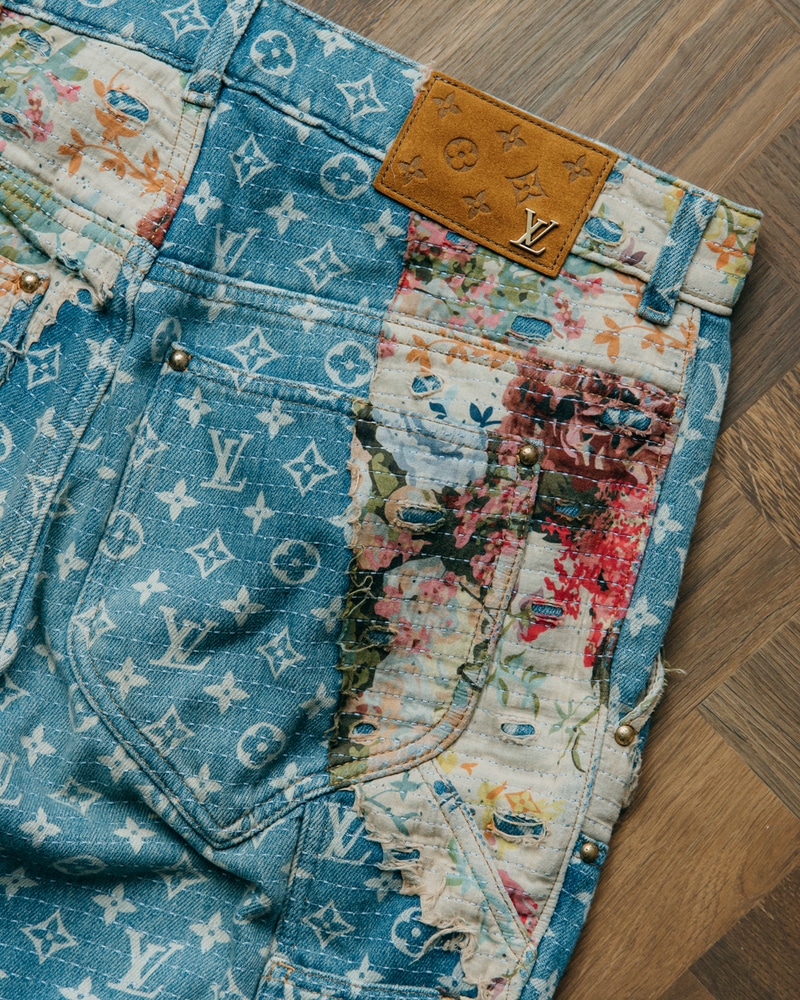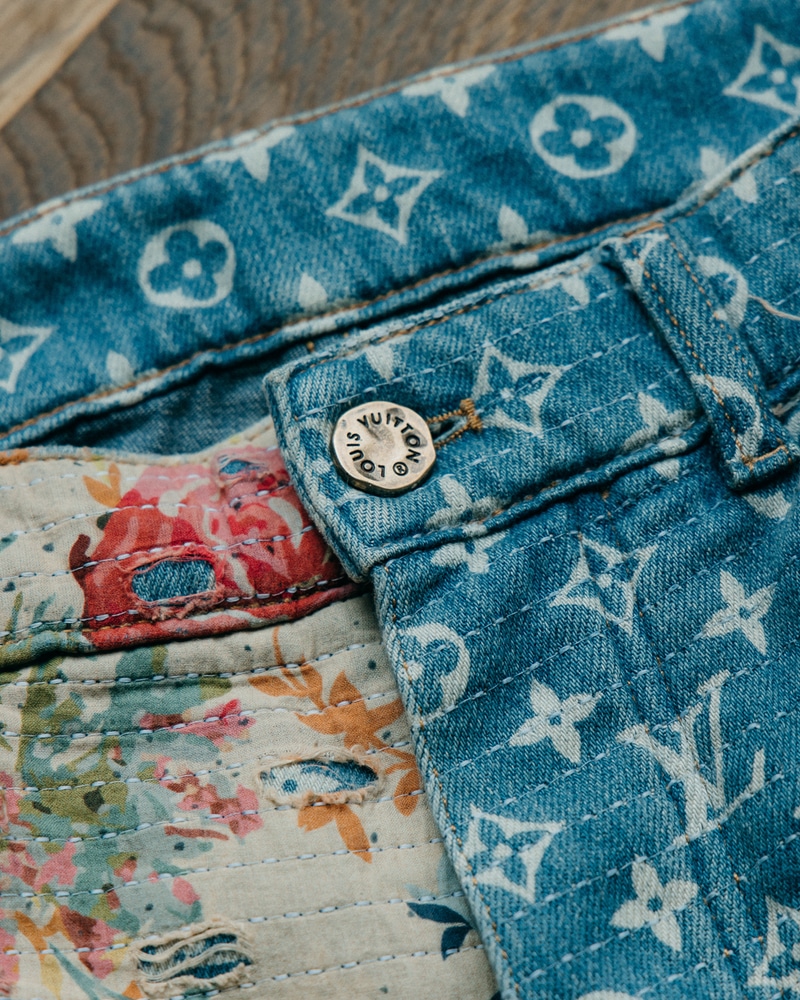 How do you go about sourcing vintage designer jeans?
There used to be a Japanese vintage store called PX Station that has since closed down. Although the prices were relatively high, they had a wide selection of styles. Many vintage collectors from all over the country flocked to their flagship store in Ogikubo. Many of the Japanese vintage stores have since closed down or shifted their focus to selling second hand luxury goods. These days, the best way to find vintage denim treasures is through Rakuten Shopping, Yahoo! Japan Auction or HBX Archives.
Have you encountered any difficulties during the process of collecting vintage denim?
In the past, jeans were mainly available in slim or straight fits, and oversized styles were not prevalent. Consequently, finding vintage denim jeans in larger fits can be challenging, making it all the more reliant on serendipity.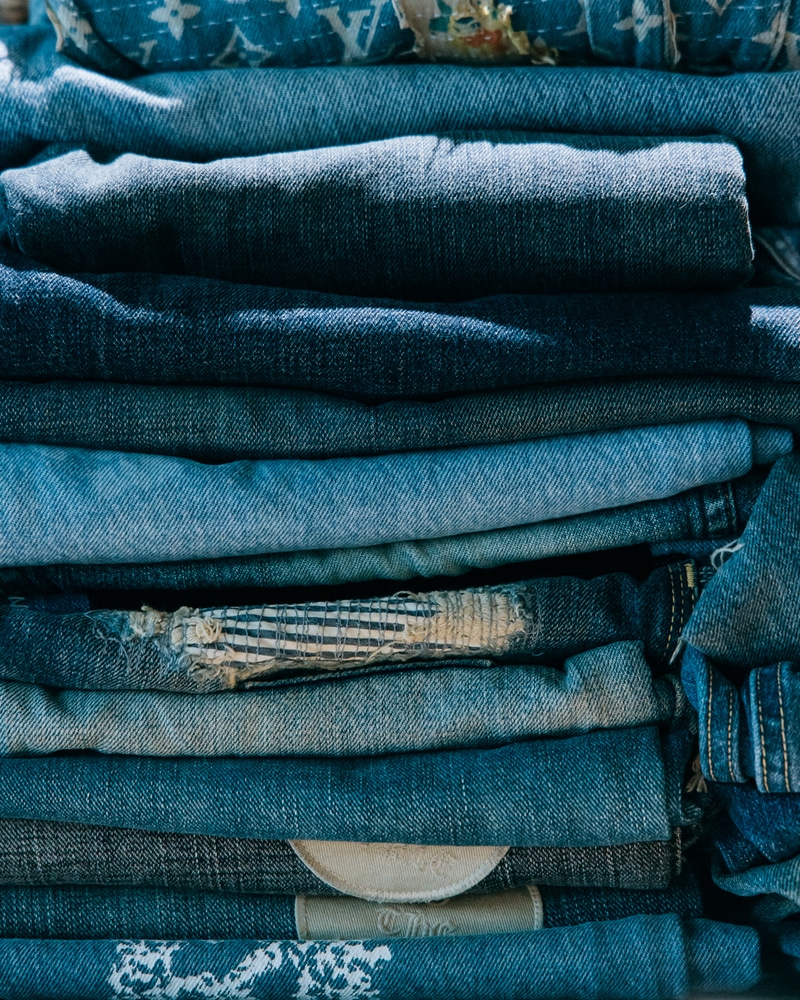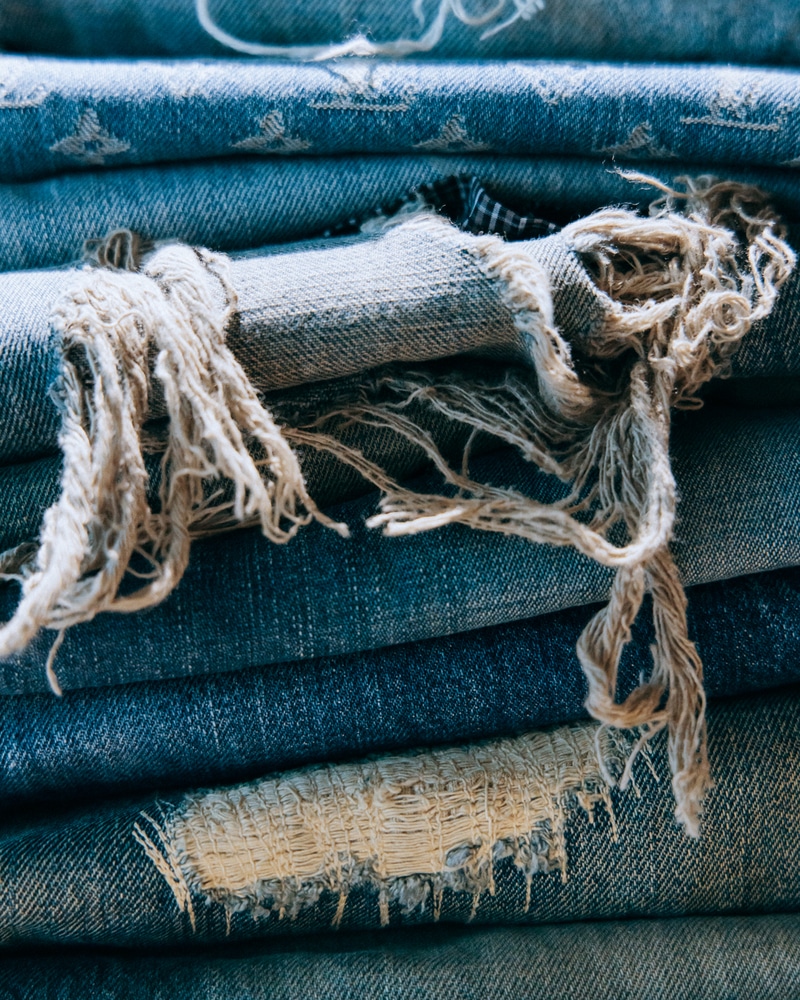 Do you have any tips on how to care for denim?
After cleaning them, it's best not to expose them to direct sunlight for too long as it can cause fading.
You have an extensive collection not only of denim but also of tees. How has that influenced your creative vision for your personal brand?
Although Raw Emotions hasn't produced denim jeans before, the vintage tee designs we've created in the past were inspired by my personal collection of vintage band tees. We wanted our customers to own a new piece of design that captures the very essence of a worn-in garment.
Similarly, our recent carpet releases were inspired by a photo of NIGO's home featured in an issue of Interview magazine, where he displayed a Tibetan tiger carpet. This influenced me to create tiger carpets in a hype-driven fashion, a standout lifestyle feature that can highlight any home.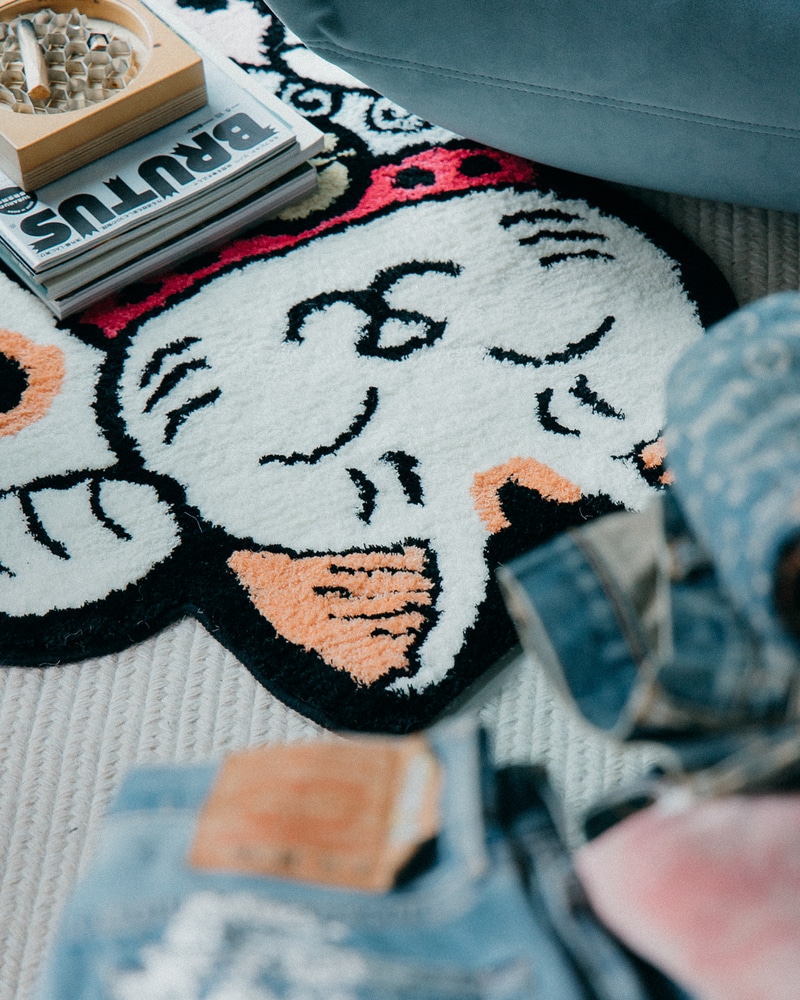 If you're fascinated by Kurtis' collection, keep an eye out for updates of upcoming denim releases on HBX Archives, the destination for your favorite pre-owned treasures.
---