There is a quietly unhinged corner of social media where all the cat ladies gather. If you ever find yourself free-falling down this chaotic and never-ending black hole of feline content, you will find that this void is haphazardly held together by obscure cat memes, an eternal cache of Smudge Lord iterations, and a continuous loop of sighs of exasperation from humans who have voluntarily subjected themselves to a lifetime of indentured servitude to their tiny cat overlords. It is in this swirling cyclone of mayhem where I find myself most of the time, and also the place where I first discovered Morae, just a baby sleeping in a basketball.
Morae is an extremely handsome, slightly chonky British Shorthair cat. He likes to wear tiny hats when the mood strikes and he has an extensive range of facial expressions that seem to convey all the secrets of the world. He is known for his impeccable sartorial choices, including an oft-worn KAWS-inspired tee and of course, a discreet sunglass look so that he isn't recognized in public by pesky paparazzi.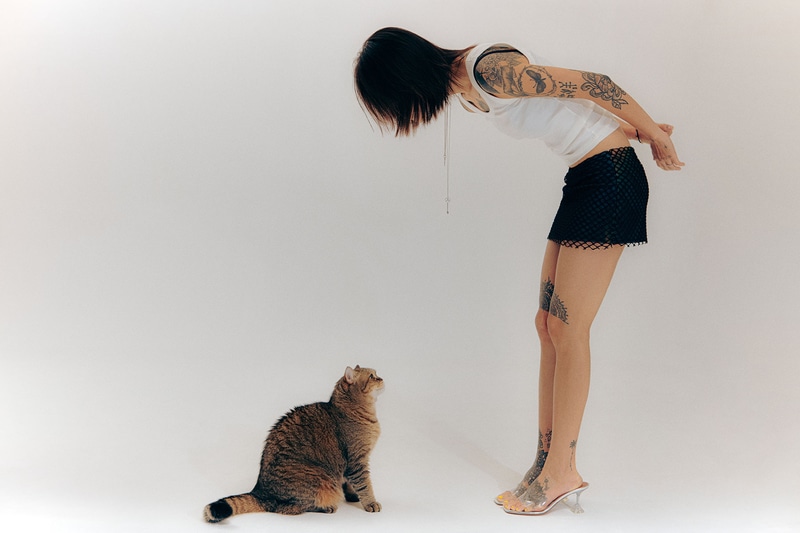 Mirae wears Miaou's Fig Skirt & Amina Muaddi's Lupita Slipper.
His mom, Mirae, happens to be a renowned tattoo artist based in Seoul, who counts Peggy Gou amongst her long list of clients. Apart from tattooing, Mirae is also a regular fixture in the Korean fashion scene, appearing in various editorial campaigns and can be seen photographed with the likes of Glenn Martens and Jeremy Scott. Morae himself is no stranger to the world of fashion either, having served as the muse for Korean imprint JOEGUSH's 2021 capsule collection. A very fashionable mother-son duo, indeed.
Mirae and Morae's popularity also speaks to the growing status of the fashion cat lady. Made popular in recent years by fashion stalwarts such as the chic print publication, PUSS PUSS Magazine, the cat lady is no longer the deranged spinster that is often portrayed in popular media via the likes of The Simpsons. Instead, PUSS PUSS pays homage to well-known cat ladies in the world of fashion such as Grace Coddington, Yoon Ahn of AMBUSH, Michèle Lamy and even Tyler, The Creator (for the uninitiated, being a cat lady is a vibe, it has nothing to do with gender). These individuals are celebrated for their aloof confidence, unapologetic independence and their desire to go against the grain. In this sense, the cat lady serves as the perfect fashion muse: someone who makes their own rules and finds conformity infinitely boring. Traits, of course, that Mirae (and Morae) is a glaring example of.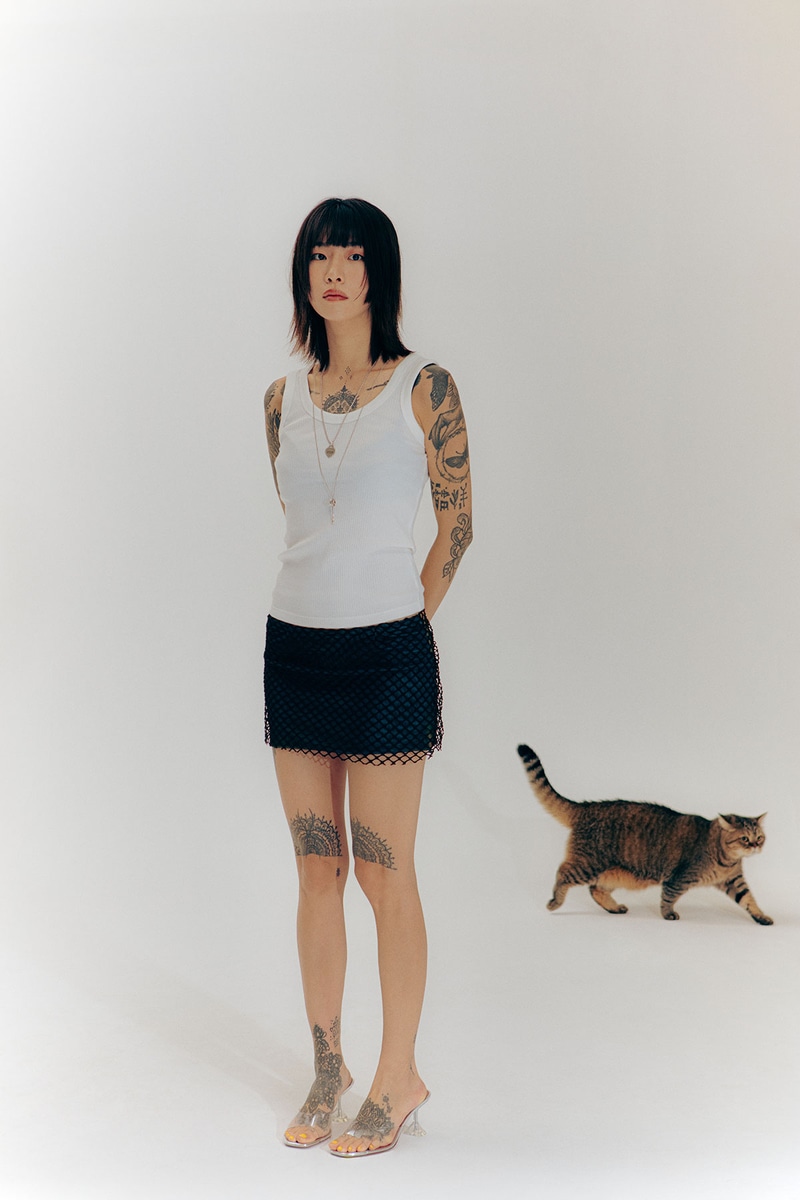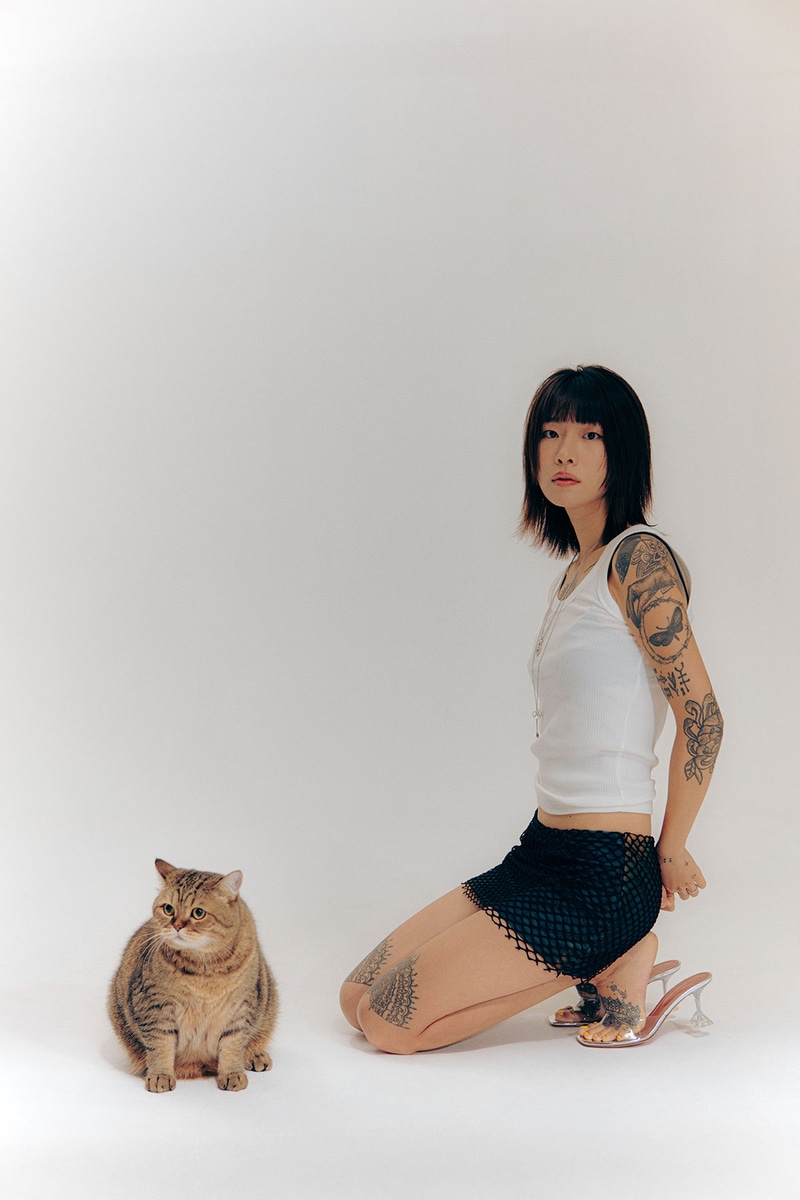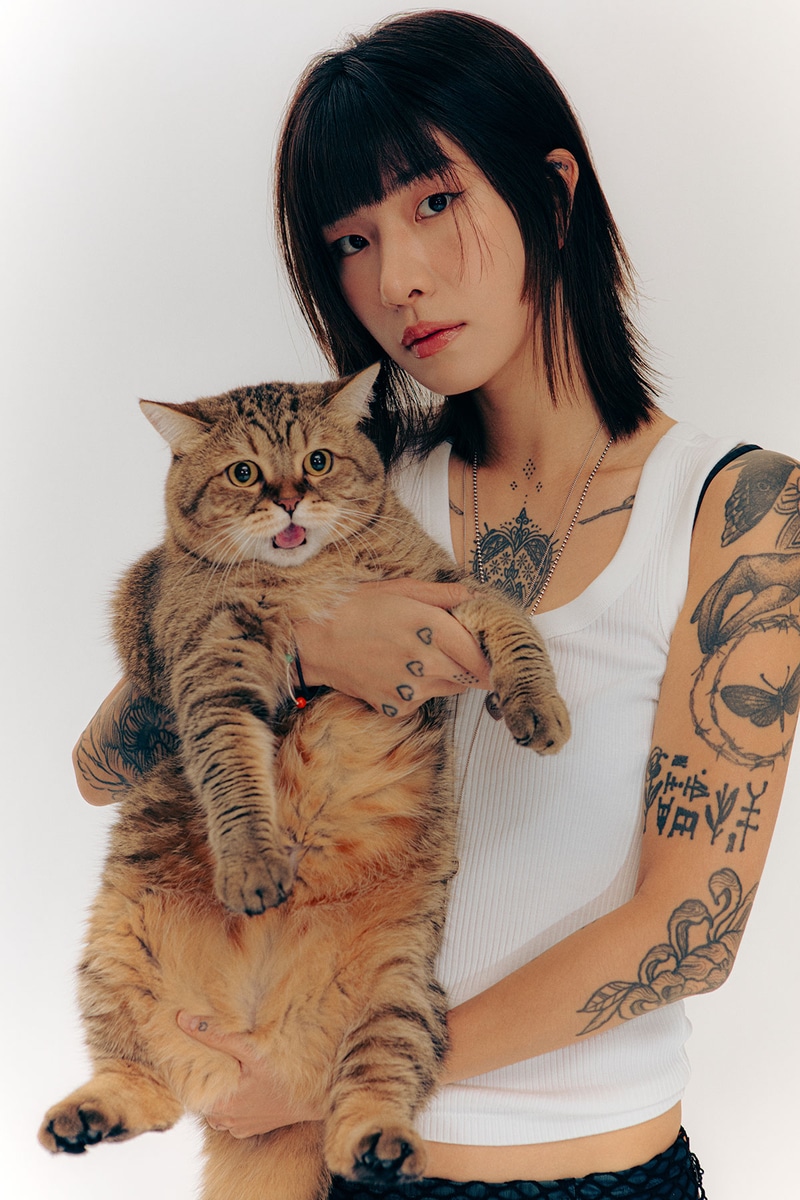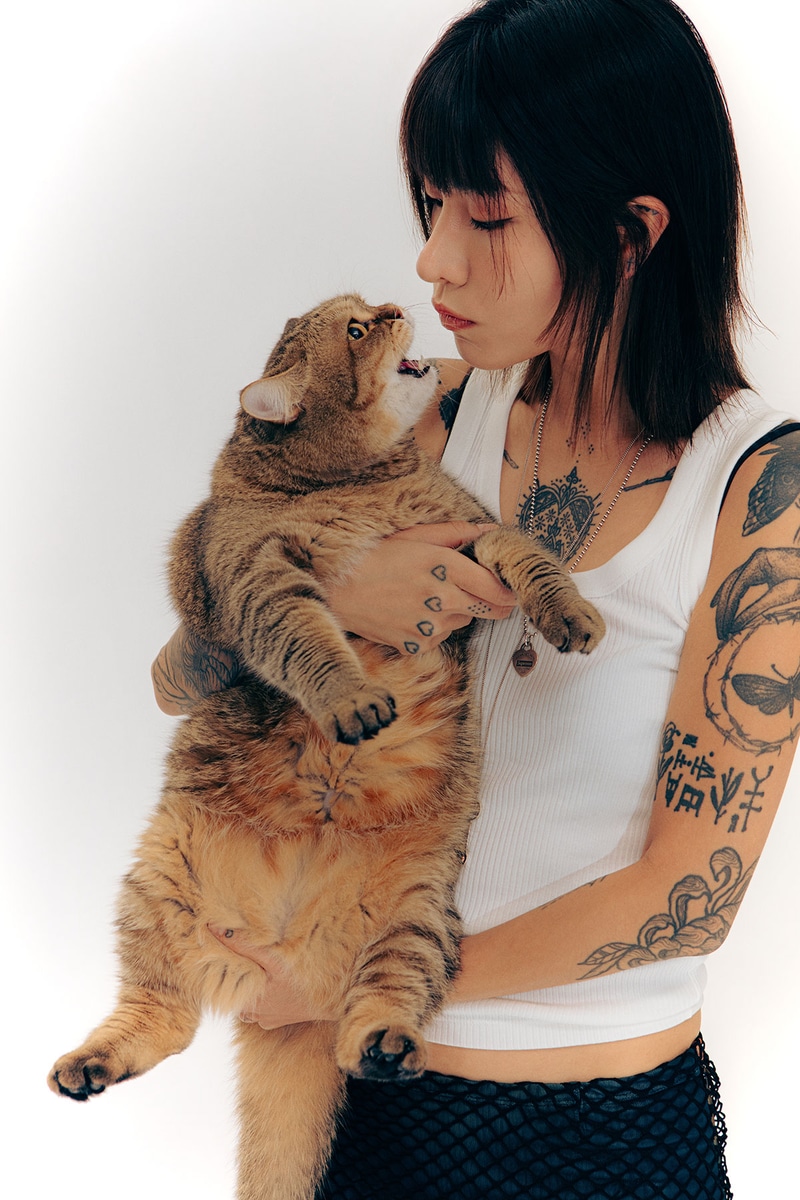 We recently caught up with Mirae and Morae in Seoul, where we captured the purest essence of her cat lady energy in an exclusive editorial. We chat with her about the complexities of being a tattoo artist in South Korea, the role that tattoos play in her self-expression, as well as how Morae feels about being a rising fashion icon.
Scroll down to see more from Mirae and Morae. Mirae is dressed in looks from Paloma Wool, Amina Muaddi and Miaou, while Morae appears au naturel.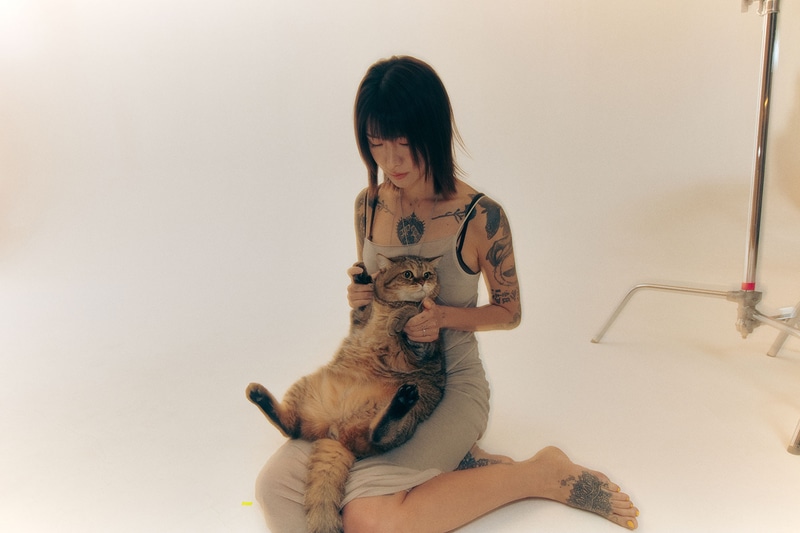 Mirae wears Paloma Wool's Sora Dress.
How long have you been tattooing? How would you describe your tattoo style?
I'm in my 13th year working as a tattoo artist and I usually work with repetitive pattern designs.
Being a tattoo artist in Korea can be quite difficult, with the laws working against artists. What has your experience as a tattoo artist in Korea been like so far?
Tattoo, as an entire culture, had to kind of be hidden from the mainstream because of medical laws in the past. There was also this negative perception of tattoos, so it was really difficult to work as a tattoo artist in Korea. But times have changed, and people are so exposed to tattoos now thanks to things like social media, where people can find artists that fit their personal style. It's gotten a lot better than when I first started out for sure. I've used that change to fuel my career alongside my peers, which is why I think the Korean tattoo scene has become what it is today, being recognized worldwide.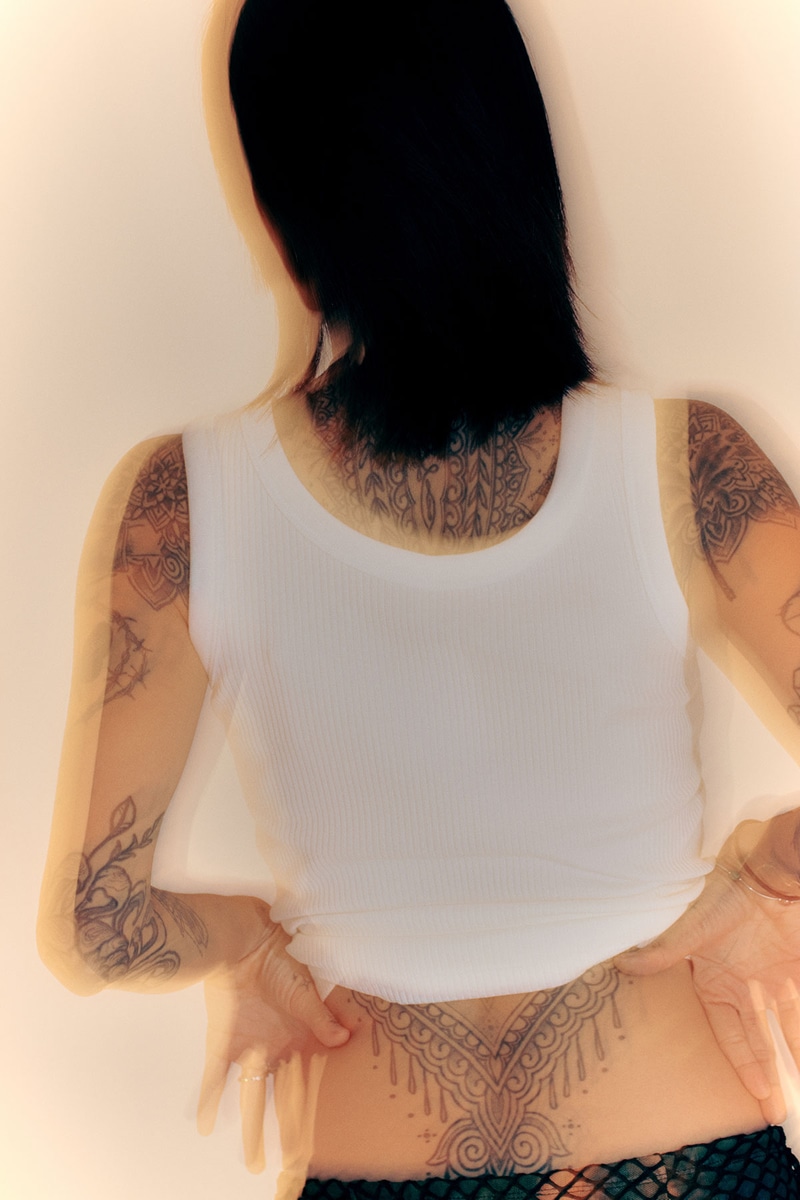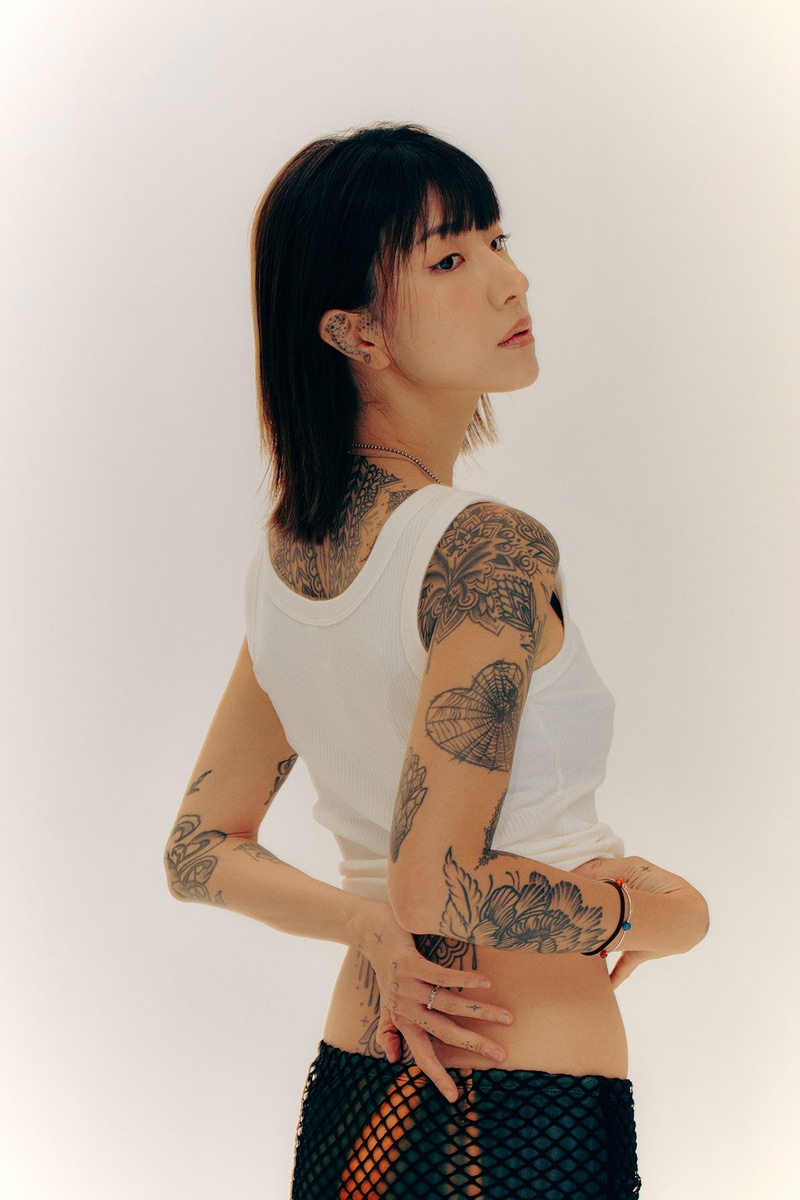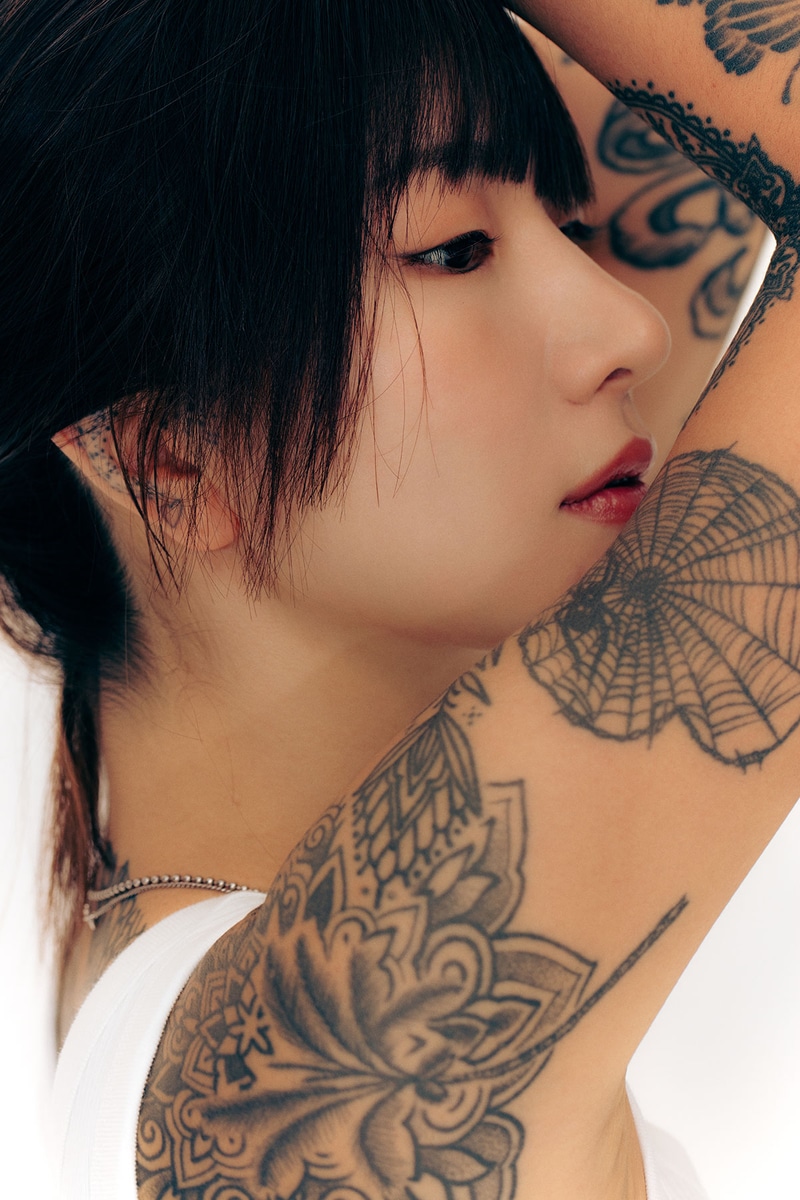 Aside from being a tattoo artist, you're also very involved in fashion, having appeared in numerous magazines and campaigns. What role do fashion and tattoos play in self-expression for you?
Tattoos are almost just like wearing clothes. You choose the right style of tattoos and tattoo artists, just like you would with garments, designers and brands. I believe tattoos are one of the many ways a person can express themselves. I know that when someone looks at the tattoos on my body, or the tattoos that I've done in the past, they'll know right away that it's me. It's become a part of my identity.
What are some of your favorite local Korean fashion brands? Favorite boutiques to shop at?
My favorite brands are s/e/o and OPEN YY (formerly TheOpen Product). I like that I can wear their clothes in any season. They're timeless! I mostly gear towards streetwear-influenced looks when it comes to style so I like to shop at stores like Warped in Itaewon, as well as Addicted. For designer pieces I like going to Boon The Shop. Seongsu-dong has been on the rise as well for shopping — there's a new sneaker store called Tune that I've been going to a lot. Not only do I like their selections, but I also love their interiors.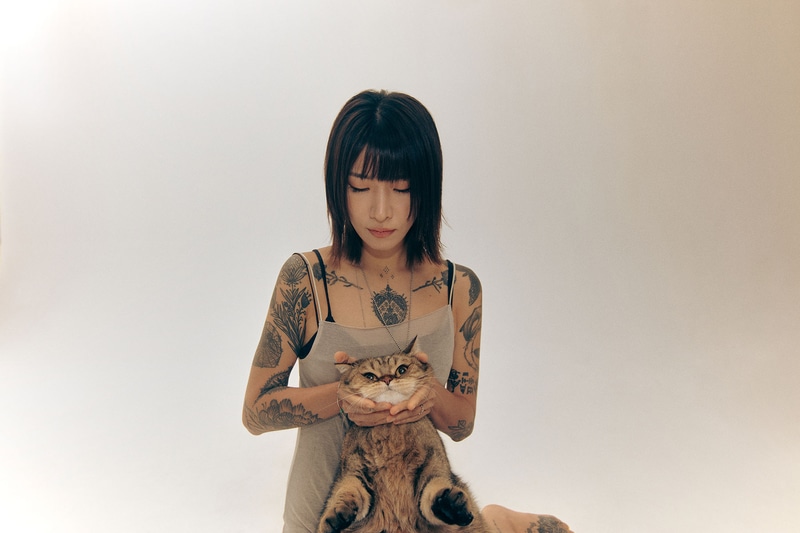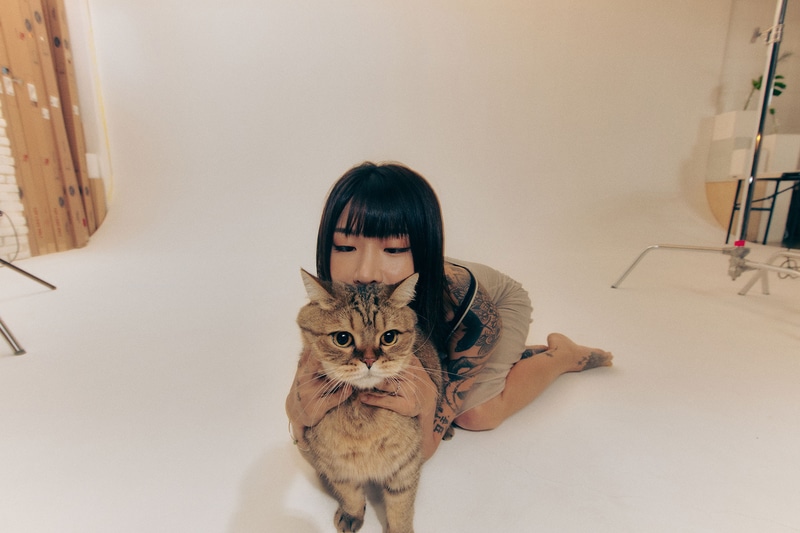 I've been following Morae since he was a baby. What is his personality like in real life?
He likes people and isn't afraid of new spaces, but I don't think he's a dog-like cat. Wherever he goes, he acts like it's his turf. I'd say he's like a little baby boss.
How would you describe your cat lady energy? What makes someone a cat lady?
I've lived with cats ever since I was in middle school. Back at home, my family has an 18-year-old grandpa cat called Ddoong-ee (뚱이). My friends like to call me a cat professor because I know so much about them and they are such a huge part of my life. Morae is the first (and only) cat I've had since I started living on my own. He's like my child and I tell him I love him every single day. Although they don't seem as affectionate as dogs, cats express their love in their own way. Every time Morae does that, it makes my day and lets me start and finish my day with a huge smile on my face. No wonder there's a saying that cats save the world.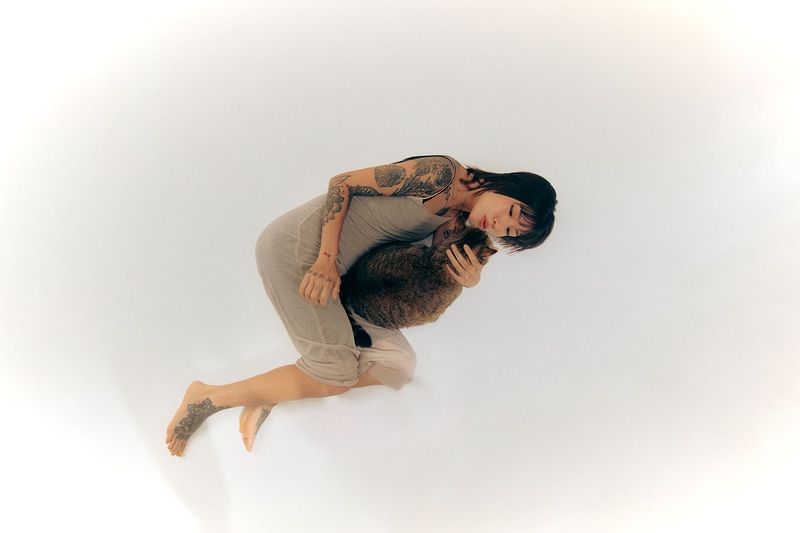 Mirae wears Paloma Wool's Sora Dress.
Morae is also a bit of a fashion star, having had his own collection with JOEGUSH in 2021. How does Morae feel about being a fashion icon?
I think it's all thanks to Morae and all of his diverse face expressions. I do want to create a cat world through Morae but I'll have to ask him about the copyright for that [laughs].
What are Morae's 3 favorite things? What are his 3 least favorite things?
His favorite thing is this stuffed snake from IKEA that he kneads multiple times every single day, ever since he was a baby. His second favorite thing is kissing, and I'd like to say his third favorite thing is his mom, me! He hates getting his fur combed, cutting his toenails and going to the vet.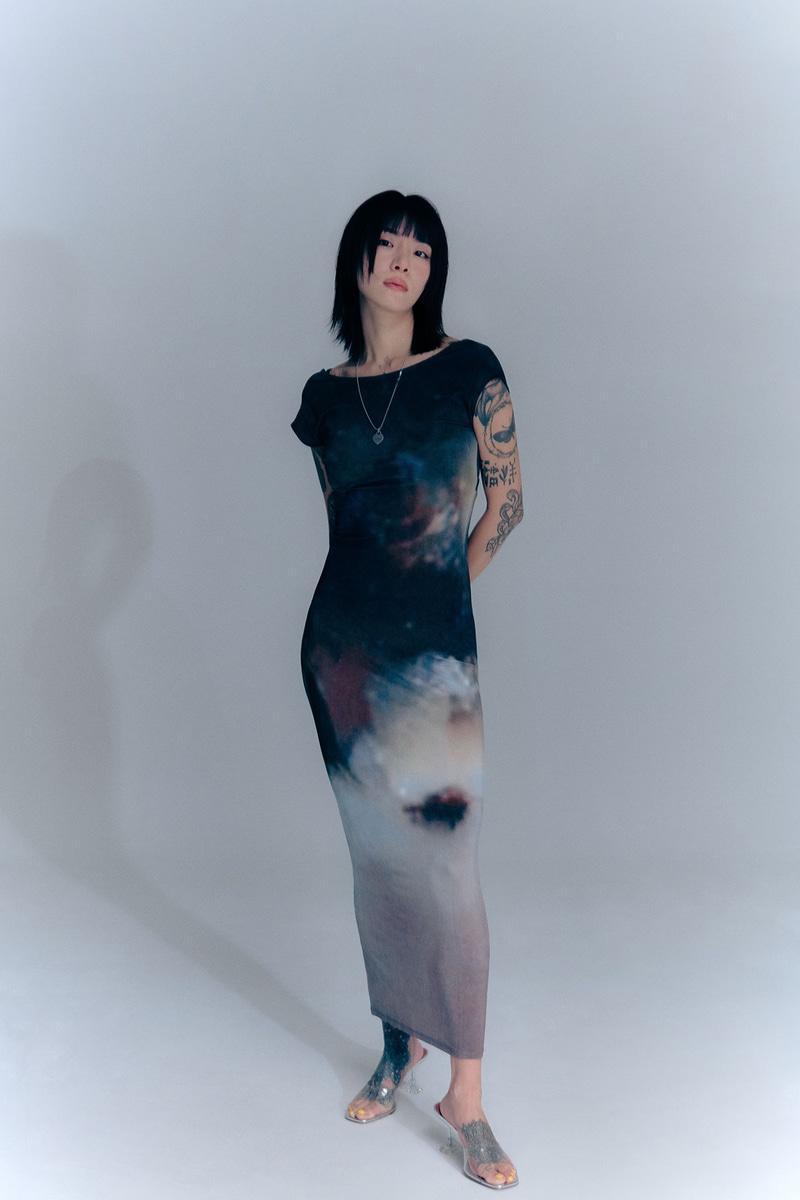 Mirae wears Paloma Wool's Maddi Dress.
---
SHOP MIRAE'S LOOK
---